Musical Tackles Church Sex Abuse

By Annysa Johnson
Milwaukee Journal Sentinel
October 1, 2010

http://www.jsonline.com/features/religion/104192634.html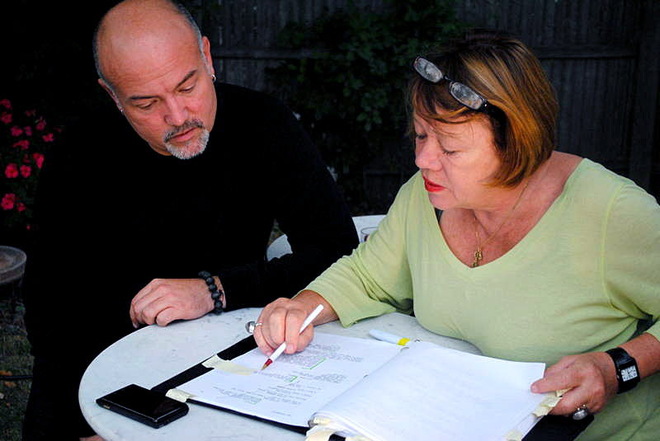 Local composer Billy Kirchen (left) confers with German actress Veronika Nowag-Jones before a reading of Kirchen's msuical "Mirrors of Desire," an autobiographical play about clergy sex abuse.



Composer finds catharsis in his story

A new musical by Milwaukee composer-entertainer Billy Kirchen about child sex abuse in the Catholic Church might make it to the stage in Berlin.

But it won't get a reading at St. Vincent Pallotti Parish in Milwaukee.

Kirchen and Veronika Nowag-Jones, a German actress and director who says she'll mount his autobiographical "Mirrors of Desire" in Berlin next year, had planned to stage a reading Friday night at the West Side church where Kirchen plays the piano.

But they moved it to Kirchen's home on short notice after one of St. Vincent's priests took issue with its sometimes graphic content.

"The church is not a theater. It's a worship space," said Father Greg Serwa, who had fielded a complaint from the mother of one of the actors who had auditioned at the church Thursday night.

"I don't think the subject matter is appropriate."

"Mirrors" tells the serious and sometimes absurd story of Adam Caldwell, a man whose life is unraveling and who is forced to confront his sexual abuse as a child at the hands of his choirmaster.

Kirchen, who reported in the 1980s that he'd been molested by his own choir director at a Milwaukee Catholic school, said he composed it, with friend and lyricist James Chudy, as a kind of catharsis.

"This is my story," said Kirchen, who wiped tears from his face as a young actor read the protagonist's part during auditions this week. "It's very emotional."

Uncharted territory

It was the subject that drew Nowag-Jones, who has a string of German film and television credits to her name and has directed at regional theaters in the United States. And she hopes to be the first to tackle it on stage in her native Germany.

"This is a huge discussion in Germany and London - everywhere in Europe," Nowag-Jones said of the sex abuse revelations involving the Catholic Church that have swept across the continent over the last year.

"I think there is no play about this subject yet. Not there," she said.

Nowag-Jones will use a videotape of the reading - by two documentary filmmakers who are working on their own story about Kirchen - to solicit interest and funding for the Berlin production.

According to Kirchen, he was repeatedly molested by his choirmaster, often inside the church, beginning in the seventh grade. He told a school counselor and police when he was 15, but no charges were filed - though there is some disagreement as to why.

Milwaukee County District Attorney John Chisholm said he is re-evaluating the case because the alleged offender left the state, effectively stopping the clock on the statute of limitations. However, that's complicated by the fact that he believed he was free to go, said Chisholm.

Like Adam's abuser, Kirchen says, his was a man he admired, who shared his love of music and offered a refuge from an abusive father.

And like Adam, Kirchen says the experience corroded everything in his life, including his relationships and his sense of self-worth.

"All the relationships I've had in my life have been destructive because of what happened to me as a child," said Kirchen

"You don't realize it when it's happening," he said, "but when you enter into a relationship with a person, all the stuff you try to hide and put away comes out in destructive, volatile ways."

Therapeutic art

It's not unusual for sex abuse survivors to turn their pain into art, say victims advocates and professionals who work with them.

"There are books, plays, poems, art, everything," said Barbara Dorris, outreach director for the national Survivors Network of Those Abused by Priests. "Sometimes that's the only way they can express what they're feeling."

Art, especially music, can help survivors explore the emotional rather than intellectual dimensions of their pain and healing, said Maryann Clesceri, executive director of the Healing Center, which offers art therapy to its sex abuse clients.

"So often, as a way to cope, they've buried those emotions," she said.

Kirchen's emotions are laid bare in "Mirrors." Whether it's successful or seen as trivializing a deeply painful experience will depend on the quality of the work and the staging, said Mark Bucher, artistic director of the Boulevard Ensemble Studio in Bay View, which has produced its share of new plays.

"Sometimes the sacred and profane can work very well together," said Bucher, who has not read the script.

There's no shortage of playwrights, he said, from Samuel Beckett to Tony Kushner, who've tackled tough subjects through comedy and the absurd.

"In 'Angels in America,' there's burlesque, women playing men, men playing women, angels flying through walls," he said. "From a theatrical discipline, whatever works works."

Still, he said, Kirchen's effort sounds ambitious.

"You just don't know until it's up on its feet."