Priests Can Be Victims of Injustice, Too

By Francis Phillips
Catholic Herald
October 1, 2010

http://www.catholicherald.co.uk/commentandblogs/2010/10/01/priests-can-be-victims-of-injustice-too/

It is fatally easy to assume that priests accused of sex abuse are guilty until proven otherwise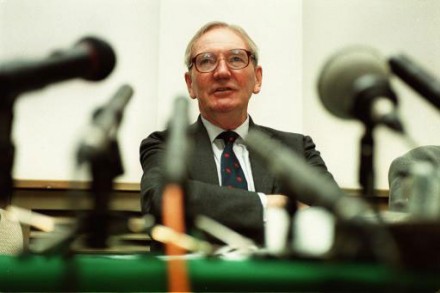 Procedures to deal with allegations of child abuse were tightened up in 2001 following a report by the late Lord Nolan, pictured (Photo: PA)



This blog is about priests and paedophilia. Even to write these two words in the same sentence fills me with shame and sorrow: shame that a few priests – much fewer than in the popular imagination – have so woefully betrayed their office; sorrow for the victims whose lives have been indelibly marked by the crimes done to them.

As we know, the media likes to speak of "paedophile priests", as if all priests must somehow have a shadow of guilt by association with the few. And this same media raised the subject many times before the visit of Pope Benedict to Britain, thus trying to create a miasma of disgust and disapproval even before the Pope reached these shores. The state visit itself was a resounding success and the Holy Father not only met some of the victims of abuse, as he has done in other countries, but raised the subject head-on himself on the plane bringing him here.

Against this general background, a particular news item on the Radio 4 Today programme, aired during the papal visit, has occasioned my reflections. X was interviewed. Now in her 60s she has only recently come forward about the occasion, aged 10, when she was raped by a priest in her bedroom with her parents downstairs at the time. A large sum of compensation money has been paid.

The whole interview filled me with disquiet, not, I hasten to emphasise, because I wish to challenge X's memories, but because it raised for me the acute question: how can such allegations be proved beyond a shadow of doubt by the police, when the crime took place half a century ago and when the accused priest is probably dead, as are – presumably – the victim's nearest relations? I do not know if in this case there was corroborative evidence from others; none was mentioned.

I repeat: I do not wish to throw suspicion on X's memories, merely to raise the question. In English law people are innocent until proved guilty; in the matter of "paedophile priests" it is fatally easy to come to the opposite conclusion: that they are guilty until proved innocent. I understand that following the Nolan report on this subject its recommendations were modified so that accused priests are no longer in such a vulnerable position. But given the media's appetite for ferreting out subjects of scandal, this area is still a minefield.

On a recent visit to Belgium I read a leaflet by a Jesuit priest, Fr Charles Delhez; reviewing the (proven) scandal of the Bishop of Bruges he appealed, as I do here, for justice: justice not only for the victims of sexual crimes, but also justice for accused priests – who may be innocent. We know of false memory syndrome, where unscrupulous and unregulated psychotherapists act upon vulnerable young people to unearth supposed memories of familial incest, causing trauma and breakdown in ordinary families. The same syndrome can operate within the clerical sphere. Add to it the temptation of receiving a large sum of money, the tricks of memory after the passage of time, the wish for revenge and the harbouring of a grudge and you have, as I indicated above, a minefield for the police to navigate.

Fr Delhez referred to the notorious affair of Outreau in France, where 13 people, including a priest, spent three years on remand before the accusations of children against them were found to be lies and fantasy and they were acquitted. I myself know an elderly English Jesuit priest accused in this way by a former pupil of the school he taught at, and who was also later acquitted of any wrongdoing. He suffered deeply in the meantime. Is it too much to ask the press, so self-righteous when it comes to the sins of others, to occasionally highlight cases of clerical miscarriage of justice?