Another Priest Child Sex-abuse Case Filed against St. Elizabeth

By Peter Rugg
The Pitch
October 1, 2010

http://blogs.pitch.com/plog/2010/10/st_elizabeth_child_sex_abuse.php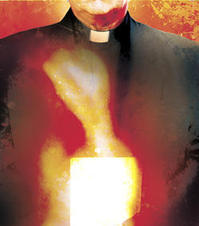 In the '70s, spiritual comfort was the last thing kids at St. Elizabeth received.



Yet another person has come forward alleging they were abused as a child by priests working at St. Elizabeth Parish in Waldo.

They're in sad and numerous company. Over the year's the church, and its notorious rectory, have been named in so many child abuse cases that at one point a former St. Elizabeth's student tried to buy the building so he could tear it down.

The latest lawsuit, filed under the plaintiff pseudonym John Doe, alleges that the now 52-year-old man was forcibly fondled at the age of 13 by one unnamed priest along with a Father Mike Tierney, who served at St. Elizabeth from 1971 to 1976. Tierney is currently a pastor at Christ the King in Kansas City.

Doe claimed he repressed memory of the events until 2008.

In 2008, I wrote about the shockingly high percentage of church sex scandal victims in Kansas City who claimed they were molested at St. Elizabeth ("The Ghosts of St. Elizabeth"). One victim described being dressed in short-shorts, given a feather duster, and asked to get up on ladders and clean while old priests ogled him. Another said it was an open secret while attending school that if you wanted to get by in class, you could always get friendly with the priests.

Had the former student who wanted to purchase the rectory been able to do so, his plan was to replace the structure with a memorial to the victims. It's a nice dream I wouldn't recommend waiting for.