Ex-priest "Had Dreadful Weakness for Young Boys"

BBC News
October 4, 2010

http://www.bbc.co.uk/news/uk-england-11470740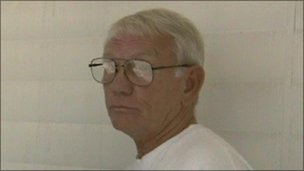 James Robinson denies all the charges against him



A former clergyman with a "dreadful weakness" for young boys moved from parish to parish sexually abusing children over 24 years, a court heard.

Richard John James Robinson is alleged to have committed offences against six boys aged under 16 between 1959 and 1983 at churches in the West Midlands.

The 73-year-old former Roman Catholic priest denies 22 charges.

He had "something of a knack for spotting the quiet child of the family", prosecutor John Attwood said.

'Predatory manner'

The prosecutor told Birmingham Crown Court: "Although he moved from one boy to another over the years, there are, we suggest, marked similarities in the way he behaved towards the boys and their families.

"There would be presents, there would be visits, there would be trips out in his car."

Mr Robinson faces 22 charges, including five counts of buggery, two of attempted buggery, 12 counts of indecent assault and three counts of indecency with a child.

The former clergyman, who was known to parishioners as "Father Jim", worked in churches in Staffordshire, Birmingham and Coventry until the mid-1980s, when he moved to California.

'Vulnerable children'

He was extradited from the US in August last year.

Mr Attwood said: "The defendant, Mr Robinson, was sexually attracted to young boys and he used the trust and respect that came with his position within the church to prey in a predatory manner on vulnerable children for his own sexual gratification."

The prosecutor said Mr Robinson used his position as a priest to gain "unfettered and unlimited" access to the young boys who "caught his eye", giving them gifts and taking them on trips in his sports car.

He said Mr Robinson had "a dreadful weakness" for young boys but told jurors his behaviour did not appear suspicious to his victims' families because "it was a different world back then".

The court heard that Mr Robinson took the boys to football matches and rock concerts, and some of them stayed overnight at the house he shared with his mother.

The prosecutor said the alleged abuse had left some of the men emotionally damaged and needing counselling in their adult lives.

He said the boys did not speak out at the time because they were bewildered, ashamed, and felt they would not be believed.

Mr Robinson was remanded in custody and the case was adjourned to Tuesday.