John Geoghan Killer Joe Druce Poised to Marry

By Dave Wedge
Boston Herald
October 5, 2010

http://news.bostonherald.com/news/regional/view/20101005geoghan_killer_poised_to_marry/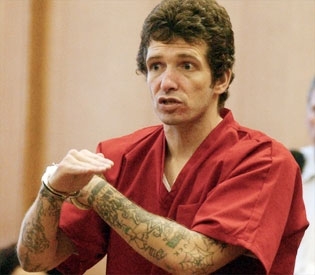 John Geoghan killer Joe Druce poised to marry



It could be wedding bells for one of the state's most notorious murderers, as a South Carolina woman is planning to say "I do" to pedophile priest killer Joe Druce - if prison officials approve the lockup lovers' big house bonds of matrimony.

Shirl Borden, a Christian minister and Air Force veteran who has helped Druce in his many legal wranglings, said the man convicted of killing priest-turned-perv John Geoghan proposed and she's decided to take the plunge.

"I took years to think about it and I've decided to say 'Yes,' " Borden told the Herald. "I fell in love with him because he's a nice guy and he's honest as far as I know. I've never caught him in a lie."

Druce was serving life in 2003 for the 1988 beating and strangulation of a gay Gloucester bus driver when he killed Geoghan in a cell in a similar manner.

Borden became pen pals with Druce five years ago and said the relationship sooned turned romantic over a mutual love of NASCAR. She said Druce, who resides in MCI-Cedar Junction in Walpole, sought permission to wed in 2005 but was denied. Borden said he'll be filing a new petition.

"I'm not doing it out of publicity, I actually do love him as a person," she said.

The state Department of Correction allows inmates to get married "unless such a marriage is unlawful or present(s) a security risk." A DOC spokeswoman declined to comment, citing privacy rules.

Druce was not available for comment. His mom, Donna Druce, said she knew her son was engaged to Borden but was unsure when they might get married.

"If it makes him happy, then I'm happy," Donna Druce said. "He's had a miserable life. If this is going to eke him out a little happiness, then why not?"

Borden is also helping her fiance in his many jailhouse lawsuits. Just last month, the federal court dismissed a suit in which Druce claimed he was being threatened and punished by officers trying to block him from telling the "truth" about the murder. Druce has claimed correction officers were complicit in Geoghan's killing.