Vatican Investigators to Meet Abuse Victims

RTE News
October 6, 2010

http://www.rte.ie/news/2010/1006/abuse.html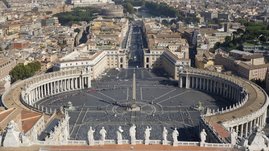 Vatican Sending group to Ireland



The Vatican has said that the four investigators who Pope Benedict is sending to the country's Archdioceses will meet victims of abuse and their families.

The statement was issued following today's meeting in Rome between senior Papal advisors, the four investigators and four archbishops led by Cardinal Sean Brady.

It says that yesterday the official 'Visitators' as they are known, met the Prefect and Secretary of the Congregation for Bishops 'mindful of the tragic abuse of children that had taken place' here.

It says the four Archbishops, three North American and one English, who will carry out the investigation 'will give particular attention to victims of abuse and their families'.

It says they 'will also meet with and listen to a variety of people, including ecclesiastical authorities, lay faithful and those involved with the crucial work of safeguarding of children'.

Today's consultations with the Irish delegation summarised yesterday's discussions and focused on the organization of the Apostolic Visitation and of the Archdioceses involved.

The meeting was 'marked by fraternal warmth and mutual collaboration' the statement added.