Breakthrough As Papal Team to Meet Clerical Sex Abuse Victims

By John Cooney
Irish Independent
October 7, 2010

http://www.independent.ie/national-news/breakthrough-as-papal-team-to-meet-clerical-sex-abuse-victims-2368718.html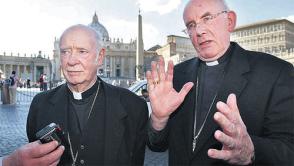 Cardinal Brady, right, and Archbishop Clifford outside the Vatican in Rome yesterday, where the Pope addressed crowds



A high-level team of outside clerics investigating the Irish church on behalf of Pope Benedict is to meet victims of clerical child sexual abuse and their families.

The breakthrough came after a day of intensive private talks by Ireland's four archbishops with senior Vatican officials and the high-level group of foreign churchmen led by Cardinal Cormac Murphy-O'Connor.

Cardinal Sean Brady, along with archbishops Diarmuid Martin, Dermot Clifford and Michael Neary, will return from Rome today confident that they now have a plan for the recovery of the organisation after two turbulent decades of clerical child abuse scandals.

The unprecedented probe was carried out in the wake of the shocking Murphy and Ryan reports.

The Irish mission ordered by Pope Benedict last March was last night described as "a significant endeavour" and as an "instrument of purification and healing for the church in Ireland.

It has also set itself the ambitious target of helping "to restore the trust and hope of the faithful there".

A statement issued by the Vatican press office said that four senior prelates from England, America and Canada would give particular attention to victims of abuse and their families when they visited Ireland in the coming weeks.

But the communique gave no details of the schedule and programme of work of the investigators.

Taking part in the high-powered team will be Cardinal Murphy O'Connor, the retired Archbishop of Westminster; Cardinal Sean P O'Malley of Boston; Archbishop Thomas Collins of Toronto; and Ottawa Archbishop Terrence T Prendergast.

In Ireland, the four will "meet and listen to a variety of people, including ecclesiastical authorities, lay faithful and those involved with the crucial work of safeguarding of children".

They will be "mindful of the tragic abuse of children that has taken place in Ireland. But they will also "assist the local church on her path of renewal".

Speaking earlier last night outside St Peter's Basilica, the head of the Irish delegation, Cardinal Brady, the Archbishop of Armagh, described the private talks as "good and positive".

"The talks were very cordial and helpful in offering assistance to the Irish church on its journey of pastoral renewal and in giving healing to victims of clerical abuse," Cardinal Brady told the Irish Independent.

Archbishop Clifford said that the "apostolic visitors" would "assist the Irish bishops in our pastoral programme for the future in safeguarding children and in offering healing to those abused by priests and anyone else".