Bishop Eddie Long Scandal: S.C. Pastor Calls for Resignation, Plans Rally

By Naimah Jabali-Nash
CBS News
October 7, 2010

http://www.cbsnews.com/8301-504083_162-20018905-504083.html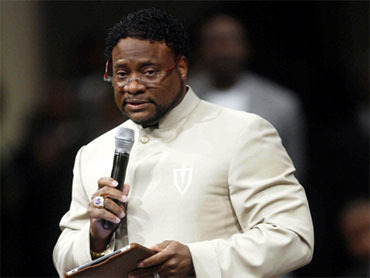 Bishop Eddie Long at New Birth Missionary Baptist Church. (AP, file)



Many of Bishop Eddie Long's followers have remained loyal to the Atlanta megachurch pastor despite the allegations that he lured four young men into sexual relationships, but the pastor of a small South Carolina church is calling for Long to step down.

Bishop Prophet H. Walker of True Light Pentecost Church in Spartanburg, S.C. plans to rally at Georgia's state capital to call for Long's resignation, claiming that the accused pastor is a "bad influence on the Christian church and future generations," reports the Atlanta Journal Constitution.

Walker, who claims his church is opposed to homosexuality, intends to "support the integrity and character of the Christian faith," on Oct. 31, but refused to say exactly how many members of his church would follow suit, reports the paper.

Four young men allege Long, their pastor, first adopted them as his "spiritual sons," then abused his "spiritual authority" and seduced them with cars, lavish trips and jewelry in exchange for sex, which he allegedly justified with Holy Scripture.

"What the parents didn't know was that part of being a son is actually an abusive emotional and physical relationship with the children," plaintiff's lawyer B.J. Bernstein told CBS News. All four teens were older than Georgia's age of consent, which is 16.

Long, an outspoken, anti-gay activist, has been the center of much scrutiny since the allegations went public. Long previously told members of his congregations that "This is spiritual warfare," according to an Atlanta area news station WBSTV.

Long became one of the country's most powerful independent church leaders over the last 20 years, turning a suburban Atlanta congregation of 150 to a 25,000-member powerhouse with a $50 million cathedral and a roster of parishioners that includes athletes, entertainers and politicians.

He has not commented on the proposed rally.