Ex-wyckoff Priest's Sex Record Must Remain Public, Judge Rules

The Record
October 7, 2010

http://www.northjersey.com/news/crime_courts/100710_Ex-Wyckoff_priests_sex_record_must_remain_public_judge_rules.html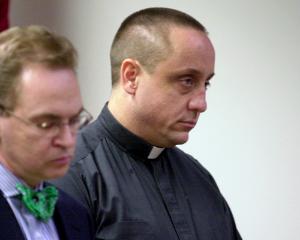 Rev. Michael Fugee during his arraignment at Wyckoff Town Hall in 2001.



A judge has declined to expunge the criminal record of the Rev. Michael Fugee, a former Wyckoff priest who entered a probationary program after being accused of molesting a minor.

Fugee was charged in 2001 of groping a 13-year-old boy and was convicted of sexual contact in 2003. His conviction was later overturned on appeal.

He then entered a pretrial intervention program in 2007 and signed a memorandum of understanding that, among other things, barred him from unsupervised contact with minors.

Fugee's attorney, Michael D'Alessio, sought to have the priest's record expunged after Fugee completed the probationary program in June 2009.

"He has done everything he was required to do," D'Alessio said.

Assistant Bergen County Prosecutor Demetra Maurice objected, saying Fugee's records must remain public.

"There is a greater need to protect the public by having the records available than whatever disabilities he would suffer by having them available," she said.

Judge Lois Lipton agreed, ruling Wednesday that the need to protect children from sexual abuse outweighs Fugee's need to have the records expunged.

Expunging criminal records would make them unavailable to anyone except law enforcement. A convict with expunged records can state in application forms and other documents that he or she has never been arrested or convicted.