Bishop Lee Not Opposed to Women Priests

Munster Express
October 8, 2010

http://www.munster-express.ie/local-news/bishop-lee-not-opposed-to-women-priests/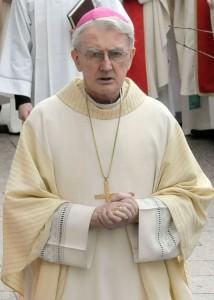 Bishop Lee



He said so at a meeting with Portlaw Pastoral Council, organised in response to a letter from the Council to the Bishop expressing strong concern around clerical child sexual abuse and the way it has been handled by the Church.

Dr Lee said he had been dealing with abuse victims since becoming bishop and felt that he had acted responsibly, having taken advice from various people with expertise in the area.

Along with Bishop Lee at the meeting were Fr Liam Power, Diocesan Director of Pastoral Development, and Ms Kate O'Neill, whose role was to record the contributions made. Fr Mick O'Byrne, PP, and Fr Ned Hassett, CC, were also in attendance, as were parishioners from Portlaw and Ballyduff.

Bishop Lee said he was there to listen and spoke about his awareness of the hurt that people were feeling over the abuse issue. He heard debate as to what it was like being part of the church at this time and recommendations as to what could be done towards rebuilding the institution after all the trauma of recent years.

The Bishop was reminded from the floor that the child sex abuse scandal was of huge proportions and people felt it was very poorly handled. Some wondered if leading hierarchy were more concerned with protecting the institution than caring for those hurt by abuse.

Heartfelt apologies

They felt more heartfelt apologies might have been forthcoming and even wondered if some clergy knew the difference between right and wrong. "People feel nobody is listening and maybe that partly explains the absence of so many young people from Mass and other church ceremonies", ventured one contributor to the debate.

Another said people generally wanted to remain part of the church but craved greater leadership from the top and evidence of more heartfelt regret over the awful things that happened.

Questions on priests' training and the whole structure within the church, as well as celibacy and the role of women in the church were all discussed. Better structures and more formal involvement by the laity and by women were called for. It was essential for that to happen if the youth were to be retained, it was felt.

Bishop Lee reminded those present that the 'Safeguarding of our Children' policy was in place in the diocese. He understood that abuse had left victims marked for life and he acknowledged the role of women in the church, adding that he would have no problem personally with the ordination of women or married priests. He also said Pastoral Councils, which gave a voice to the laity, were largely populated by women.