Devil's Advocate Targets Pope

By Anthony Hubbard
Sunday Star Times
October 10, 2010

http://www.stuff.co.nz/sunday-star-times/features/4212695/Devils-advocate-targets-Pope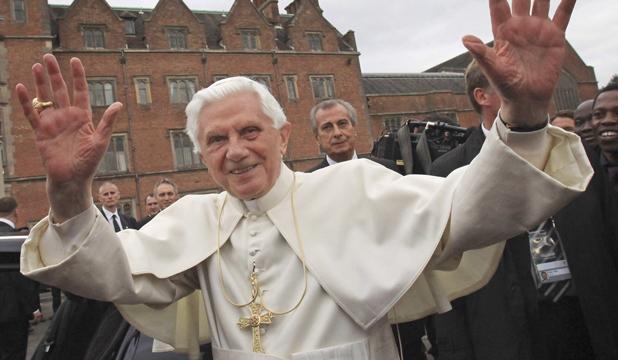 Venerated by the faithful, Pope Benedict XVI is in the sights of the "Devil's advocate''.



Human rights lawyer Geoffrey Robertson has caused an international uproar with his claim that the Pope should be prosecuted for failing to act against paedophile priests. Is he serious? Anthony Hubbard reports.

GEOFFREY ROBERTSON is Australian but speaks like an English toff. When he says the Pope should be in the dock for crimes against humanity, the effect is odd: the revolutionary has a plum in his mouth.

There's a bit of the Ocker shocker as well. The Pope's supporters, Robertson writes, claim he is above the law even if he "allows the Catholic Church to operate a worldwide sanctuary for child abusers" This seems designed to offend, although Robertson insists, "I am not a campaigner".

Also, "I'm not an atheist, I'm a lawyer," he says on the phone from a Sydney hotel, as though he couldn't be both. The British morals campaigner Mary Whitehouse described her old foe as a Protestant sceptic. "I'm happy to accept Mary's label, although she did go on to say she also regarded me as the Devil's advocate," Robertson says, laughing.

Robertson's book – The Case of the Pope: Vatican Accountability for Human Rights Abuse – makes a solemn case. For nearly 25 years before he became Pope, Cardinal Joseph Ratzinger covered up the great black scandal of sexual abuse in the church. Now he should be sued, or prosecuted by the International Criminal Court.

This is Devil's advocacy all right.

Ratzinger headed the Sacred Congregation for the Doctrine of the Faith, successor to the Inquisition, from 1981 until he became Pope in 2005. The CDF is charged with disciplining clergy, including those accused of sex abuse. "It is regarded as the single most powerful institution in the Vatican, operating as a Star Chamber without due process," says Robertson.

Robertson and others have highlighted cases handled by Ratzinger.

Father Lawrence Murphy molested 200 deaf boys in Wisconsin over a period of 20 years. Ratzinger took no action when notified in 1996: "He was worried about the risk of 'increasing scandal' and so emphasised the 'need for secrecy'," writes Robertson.

In 1981 the Bishop of Oakland recommended to the CDF that Father Stephen Kiesle be defrocked after he was convicted in a criminal court of molesting two boys in a San Francisco monastery. "Ratzinger... procrastinated for four years, despite anxious and repeated requests, for fear of provoking what he described as 'detriment within the community of Christ's faithful'," says Robertson. In a 1985 letter "he placed 'the good of the universal church' above the need to remove this incorrigible child rapist."

Earlier, as Bishop of Munich, Ratzinger "approved the transfer of a known paedophile priest, Peter Hullermann, to another parish without reporting him to police even after he continued to molest boys".

The worst case, says Robertson, was that of Father Marcial Maciel Degollado, a good friend of Pope John Paul II, who blessed him in the Vatican despite his long and notorious history of child sex abuse and his fathering of several children, whom he also abused.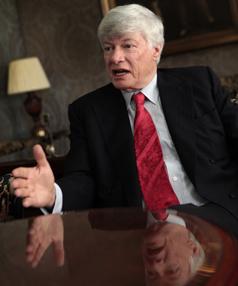 Geoffrey Robertson



"Ratzinger had the evidence in 1998 that this monster priest was abusing children – nine sworn affidavits were sent to him by the kids he abused, but Ratzinger did nothing," Robertson told the Sunday Star-Times. "My suggestion is that he was jockeying to be Pope. He didn't object when John Paul blessed him [Maciel]. But when he became Pope there was nothing to stop him. He didn't give the evidence to the police, he didn't defrock Maciel."

Ratzinger and other senior cardinals signed a Vatican letter congratulating Bishop Pierre Pican of Bayeux "for refusing to inform police about a paedophile priest and for giving him parish work despite his confession of guilt," writes Robertson. The letter, written by Cardinal Castrillon Hojos, with the personal approval of Pope John Paul II, said: "I congratulate you for not denouncing a priest to the civil administration." It was copied to all bishops, "a flagrant assertion of the church's claim to deal with criminal priests without interference from local law," says Robertson.

BUT DOES this handful of cases prove that Ratzinger was responsible for a systematic cover-up? A BBC Panorama programme last month concluded that "only a tiny number of such cases ever reached Cardinal Ratzinger's office. Most were dealt with by local churches or other Vatican offices."

In other words: it wasn't the Pope, it was the bishops. Robertson says Ratzinger was in charge of the CDF and the bishops followed the rules of the Vatican. As for the small number of cases linked directly to Ratzinger, he says: "Obviously it would be better if the Pope would allow an independent Commission to review all the files [kept in secret in the Vatican].

"We've only got a few cases which have come out of disclosures in court action. But that's enough to refute the suggestion that he had no involvement till 2001." Robertson is referring here to the idea, championed by defenders of Ratzinger, that he had a "road to Damascus" experience in the early 2000s which utterly changed his view of sex abuse by priests. Catholic writer JohnLAllen said after reading thousands of sex abuse files Ratzinger became "a Catholic Eliot Ness" and "became the first Pope to meet with victims of sexual abuse, the first Pope to offer a direct apology for the crisis in his own name, and the first Pope to break the Vatican's wall of silence."

But all this, says Robertson, far from showing him as the church's first Eliot Ness, "actually shows him up as the church's Inspector Clouseau." In fact, he says, Ratzinger had to be dragged towards reform. As late as Easter this year he said his faith had led him "towards the courage of not allowing oneself to be intimidated by the petty gossip of dominant opinion." Allegations of serious sex crimes were "petty gossip".

THE SEX abuse scandal showed up a dark side of the church. A retired bishop, Giacomo Babini, blamed the sex abuse scandal on the Jews – especially Jewish journalists working for The New York Times. They were god-killers who were "natural enemies" of Catholics.

The Dean of the College of Cardinals, Angelo Sodano, praised the Pope for resisting "petty gossip" and likened his troubles to those of the persecuted Christ. The Vatican's Secretary of State, Cardinal Bertone, blamed the trouble on homosexuality, which he linked with paedophilia.

But recently there has been a change in tone. During his visit to Britain last month the Pope expressed his "deep sorrow to the innocent victims of these unspeakable crimes" – which Robertson says "amounts to an admission of negligence". But these are still just words, he says.

What is needed, he says, is much stronger action. In particular, the church must bring in mandatory reporting to the police of sex abuse cases – a move the Vatican has so far refused to take, although the German and Irish bishops have done so. It must also adopt "zero tolerance" for paedophile priests: those found guilty must be defrocked. Again, the Vatican has refused to adopt such a policy.

HARVARD LAW professor Alan Dershowitz says there is no case for prosecuting the Pope. International law deals with war crimes, he said during an interview with the ABC last month. Calling sex abuse by priests an international crime "will water down the very important concept of crimes against humanity".

"This is not a crime against humanity, this is a series of crimes by individual priests and others throughout the world and failures by institutions to come to grips with it quickly enough. But it's very different from systematic attempts to use rape or murder as... part of a genocidal programme."

Robertson says the International Criminal Court does not deal solely with war crimes. It is about to begin prosecutions for election violence in Kenya which happened in peacetime.

"Rape is rape, and it's very much worse, I think, for a priest. I mean, a rape by a savage drunken soldier is pretty bad. But a rape by a priest of a small child is what I call soul murder," Robertson told the Star-Times.

"What the rape of a young child is doing, when it's by an agent of God, is to destroy their faith and their spirit, as well as their future." The Pope was caught by the international legal doctrine of command responsibility, which says "if you are a commander, even if you hate what's happening, if you've got the power to stop it and you don't, or if you have the power to punish the perpetrators and you don't, you're liable."

The Vatican claims it is an independent state – and heads of state claim immunity from prosecution.

But the Vatican is not a state, says Robertson. It ceased to be one when the Papal States were swallowed up in the unification of Italy in 1870. In 1929 the Pope and Mussolini put together a dodgy political deal under which Italy ceded to the Pope the Vatican Palace and gardens. "Mussolini needed the Pope to secure the electoral hegemony of fascism in Italy," says Robertson, "and the Pope was happy to agree in order additionally to secure the church's hold over Italian Catholic youth." But the Lateran treaty does not make the Vatican a state, although it uses its international position to push its anti-gay, anti-contraception agenda through the United Nations and elsewhere, says Robertson.

There are international lawyers who disagree with all this, of course. But in any case is Robertson serious? Surely he knows that it is politically unlikely that anyone would haul the Pope before the ICC?

"Well, it may not be politically feasible," he says. "I would think we will never see the Pope in the dock. But I think it's a useful idea to say, Look, the Pope is not above the law, he is liable." He wants to use it to force the church to comply with the International Convention on the Rights of the Child, a convention the Vatican has ratified and "fundamentally breaches".

Robertson's book is aimed at liberal Catholics who might support reform. He insists he is not anti-Catholic. "I have supported the Catholic agencies all my life. I spent a year trying to get them out, the ones detained by Lee Kuan Yew in Singapore. I work with Catholic organisations opposed to the death penalty." But he does wonder whether certain church traditions have stoked the problem of sex abuse. Priests must be celibate; masturbation is a sin; children are taught that priests are special.

"You take children at seven and teach them the priest is the magician, kind of God's agent, and 'Trust me, I'm a priest' is in effect how they are sodomised. It worries me that the Vatican newspaper is campaigning at the moment to reduce the age [of first communion] to five...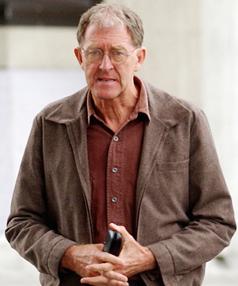 Brother Bernard Kevin McGrath



"I'm just saying, if you really want to know your problem, it's not only with the law, it's with the mind and the spirit."

The scandal in New Zealand

Child-molesting priests have caused a scandal in this country, which has led to changes in the way the church handles the problem. But critics say it has still not gone far enough.

The most serious case centred on Marylands, a Christchurch school run by the Order of St John of God for boys with learning and intellectual difficulties. The scandal broke in 2002, with scores of men claiming they were abused there.

In 2006 brother Bernard Kevin McGrath, above, was jailed for five years for sexually abusing boys at the school in the 1970s.

More than $5 million was paid in grants to victims. Another brother, whose alleged victims were too unwell to testify, did not go to court, and a third was not extradited from Australia because he was too old.

In 2004 former priest Alan John Woodcock was jailed for abusing 11 boys between 1978 and 1987 at several schools around New Zealand. A warrant for his arrest had been issued in 2002 but Woodcock was living in England and fought against extradition.

There are many other cases of priests convicted for sexual abuse during and since the 1980s. Typically, as with Woodcock, the church did not report the matter to the police and allowed the priest to move to new positions even when it knew he was guilty of abuse.

Nowadays the church encourages all complainants to go to the police, and former Police Commissioner John Jamieson provides independent oversight of all complaints.

But Ken Clearwater, manager of Male Survivors of Sexual Abuse, says in many ways the church's handling of sex abuses cases is still "appalling". It rightly encourages complainants to go to the police, "but why haven't they gone to the police at all? What makes the Catholic Church special?"

The system was biased in favour of the church, Clearwater said. Typically the response to a complaint was to check the church files "and what comes back of course is, 'There have been no other complaints and he was a wonderful priest with standing in the community' and of course there's no witnesses. So it's just their word against the priest."

One of Woodcock's victims was offered $5000, which was "just an insult." And $5000 seemed the limit for payouts by the Marist Brothers.

Jamieson told the Star-Times that cases were decided on the balance of probabilities "and most cases come out in favour of the person complaining, so I don't know where Ken gets this from."

Jamieson, who is not a Catholic, says he believes the system is a fair one, and church leaders had followed his recommendations in every case he had considered. The number of complainants is dropping fast. There were only eight new complaints in the last year.

Lyndsay Freer, of Auckland Catholic Communications, says the Marist Brothers have made payments of more than $5000, but she refused to give figures. She noted that one of the complainants in the Marylands case, who had received $100,000, was later shown to have lied. "We have to be prudent," she said.

However, the church made every effort to help sex abuse survivors and to help complainants to be heard. The church did not protect priests or send them abroad to avoid prosecution.

Geoffrey Robertson

Aged 64, born and raised in Australia and educated at Oxford University. Married to author Kathy Lette, with two daughters.

Heads the largest human rights law practice in Britain.

Defended the last two cases brought for blasphemy in Britain, against Salman Rushdie and Gay News.

Represented an anti-abortion campaigner in a case that led to reversal of British law inhibiting election campaigning by Catholic pressure groups.

Was the first president of the United Nations War Crimes Court in Sierra Leone.

Acted for Human Rights Watch in court case against Augusto Pinochet, former dictator of Chile.