Curaçao Bishop Apologised to Abuse Victim

By Robert Chesal
Radio Netherlands
October 12, 2010

http://www.rnw.nl/english/article/curacao-bishop-apologised-abuse-victim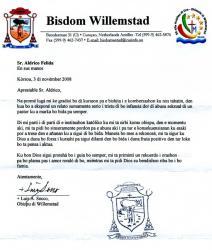 [Translation from Papiamento] Curacao, 3 November 2008 Dear Mr Aldrico, First, I would like to thank you for your visit and the conversation we had, in which you told a very serious and sad story about your youth. You told me how you were sexually abused by a priest, something that scarred you for life. On behalf of myself and the Catholic institute where I serve as a bishop, I would like to ask you for forgiveness for the abuse and all the consequences it had for the rest of your life. As you said yourself, I am convinced that God will give you the strength and patience to continue your life and make your efforts and thoughts bear fruit. May the good God carry on protecting and leading you. I promise to remember you and pray for you, so you may pass on peace and love to those around you, and I will ask God to bless you and your family. Yours truly, [signed] Luis A. Secco, Bishop of Willemstad



Priests abused children and a Roman Catholic bishop put the church's image first. An investigation by Radio Netherlands Worldwide reveals that this increasingly familiar pattern also went on for decades in Curaçao. The first of a two-part series.

The bishop of Willemstad acknowledges that Aldrico Amando Felida was sexually abused by a priest. That's why he apologised to Mr Felida on behalf of the Roman Catholic Church in 2008 – 32 years after the abuse took place. The letter in which he expressed the church's regret is now being made public by RNW.

However, Monsignor Luis Secco didn't want to know any of the details about the abuse or the abuser. "Why should I want to rake over things from the past?" Because those things have "ruined" my life, is the answer given by Mr Felida, now 47 years old.

He was 14 when Fr Fabias sexually abused him in Curaçao's small parish of Jan Doret. "One time, I had to sleep at the priest's, in his bedroom. He lay next to me, took my hand and put it on his penis. My heart skipped ten beats."

Not allowed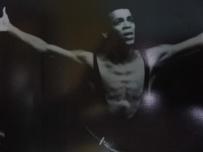 Aldrico Felida as an adolescent



Mr Felida had the misfortune of being the oldest of the village's altar boys. When they were rehearsing to take part in a procession, Fr Fabias invited them all to sleep over. Young Felida caught his eye and he was made to stay in the priest's own room to do "extra exercises".

Although he didn't have much idea about sex, the young altar boy knew something wasn't right. "You felt it wasn't allowed. But where could you go? Who would believe you? You just let it happen and hoped it would all be over soon."

His parents, warned by his brother who'd once had his leg stroked by the priest, came to pick him up the same evening. He doesn't know whether they complained to the church authorities. However, not long afterwards, the priest left the area. "People say the bishop sent him to Colombia."

Imported priests

The abuse happened in 1976. Clerics were in short supply in Curaçao and Fr Fabias was one of the many priests brought in from Latin America. "People in the village thought he was strange," explains Mr Felida. "But they looked on priests as God's representatives on earth. Priests could do no wrong."

Despite his experiences, Mr Felida is still religious. Over 80 percent of Curaçao's population is Roman Catholic and the church plays an important role in all aspects of life on the island.

He remembers a sermon given by Fr Fabias shortly after the abuse had taken place. The priest told his congregation that the village boys were no longer serving the church and were following 'the path of the devil'. "I thought: I'll stand up and say it's not true. But I knew no one would believe me."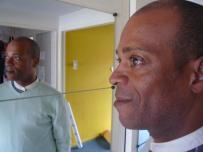 Aldrico Felida today



Disappeared

Stories have been circulating for decades in Curaçao about priests who 'disappeared' after sexually abusing youngsters. Politician Stanley Brown, who was a leader of the opposition to Dutch colonial rule in 1969, has made a list of such cases.

He describes the abuse as an open secret. "It's well known that priests who got into difficulties with boys or girls were able to escape from the island. They were transferred, but not punished. They were already on the plane out by the time any investigations were underway."

Mr Brown knows about Mr Felida and Fr Fabias but declines to give other names. He says the Willemstad diocese is also to blame for the wrongdoings of abusers. "Their plane tickets were paid for by the church."

Mr Felida left Curaçao for the Netherlands 12 months after the abuse took place. In the 1990s, he returned to present a television programme for young people about taboos such as sex outside marriage and corruption.

But he did not touch the issue of sexual abuse in the church. "I couldn't find anyone willing to say anything about it." After seven years, he returned to Amsterdam. But he was haunted by the abuse and wrote about it in the diary he had kept since he was 15.

"I was confused about my sexuality. Was I a homosexual? Had I invited the abuse myself? The questions never went away. Even after my son was born. I thought: I'll have to tell him who I am. But how is that possible if I can't close this chapter?"

Dealing with the past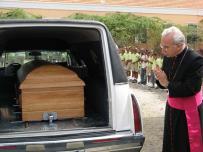 Bishop Secco at a funeral



After years of depression which led to suicidal feelings, Mr Felida decided to deal with his past. He went back to Curaçao to track down the priest who had quietly slipped away 32 years ago.

"I thought: I can forgive him, but I want to tell him what he's done to me." He returned to the church where he was an altar boy. He spoke to Fr Amado Römer who had replaced Fr Fabias as parish priest in Jan Doret.

Fr Römer showed him the room where the abuse had taken place. He told him that the then bishop, Willem Ellis (1926-2003), had known about what had gone on and that Fr Fabias had been guilty of abuse in Colombia and also in Curaçao itself before being moved to Jan Doret.

The abuse went on

Up to his death in April 2010, Fr Römer was a controversial but highly popular cleric in Curaçao. Mr Felida says Fr Römer "told me there were more abuse cases involving other priests, after I left".

He says Fr Römer had a list of the abusers. "But I could see his hands were tied. The person who was most guilty, Monsignor Ellis, was dead. After his meeting with Fr Römer, Mr Felida insisted on an audience with the present bishop of Willemstad, Monsignor Secco.

After repeated requests, Secco finally met Mr Felida and wrote him a letter of apology. "When I met bishop Secco, the first thing I noticed was his fear. Because of what Fr Römer had told him he could no longer hide behind ignorance." But when Radio Netherlands Worldwide asked the bishop about the abuse of Aldrico Felida, Mgr Secco told us he knew hardly anything about the case.

No judge

Mgr Secco confirmed to RNW that he does not doubt Mr Felida's story. The bishop said he only heard about the case in 2008. When he took over the diocese from his predecessor, no information about abuse cases was passed on, he told us.

According to Mgr Secco cases of abuse were not documented in Curaçao in the 1970s. But he feels no need for further investigation now. Not even if there is a chance that Fr Fabias worked with children again after his transfer. "I am not a policeman, or a lawyer or a judge," he said.

In Part 2, later this week: "Roman Catholic school on Curaçao was not a safe haven".

• Have you had experiences with sexual abuse in a religious context in the - former - overseas territories of the Kingdom of the Netherlands? Let RNW know, at misbruik@rnw.nl. We will treat any information received with the utmost discretion.