Irish Ex-Priest McCabe Will Fight Extradition Attempt

By Toni Earls
Irish Emigrant
October 12, 2010

http://www.irishemigrant.com/ie/go.asp?p=story&storyID=7597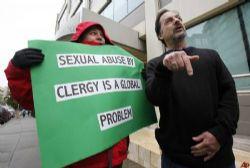 Joey Piscitelli of SNAP (right), who this week branded Irish ex-priest Patrick Joseph McCabe a "spineless coward"



Patrick Joseph McCabe (75), the Irish ex-priest who has been held in a Santa Rita, CA. jail since his arrest in San Francisco in August, is attempting to fight his extradition to Ireland by citing poor health and old age as mitigating factors.

McCabe has been charged with the sexual assault of six boys in Ireland between 1973 and 1981, but Robert Beles, his attorney, told the Irish Independent that they would not only be fighting the extradition order but would also seek to have him released from police custody pending his extradition hearing.

That hearing, initially due to take place on Tuesday, October 5th, has now been moved to October 22nd. The ex-priest is one of the oldest prisoners in Santa Rita, and Beles told the Independent:

"The problem is he is in deteriorating health. He has diabetes and a lot of serious health problems. He is not a danger to anybody."

Joey Piscitelli of SNAP (Survivors Network of those Abused by Priests) voiced his disgust at the defense's arguments to the Irish Emigrant, however, saying:

"Where was [McCabe's] diabetes when he was violating children's lives?", adding that he is "hoping that the judge sees through his cowardice" and ignores the defense's arguments.

Since McCabe's case hit the headlines on this side of the Atlantic, four separate lawsuits have been filed against him in the U.S., the first two from men known only as John Doe 76 and John Doe 77, who have also implicated the Catholic Diocese of Santa Rosa in their complaints.

A second pair of lawsuits was filed in Sonoma county court on September 9th. One was on behalf of a nine year-old victim, the other a 17 year old. Piscitelli told the Irish Emigrant that his organization has received six phone calls in total from alleged victims, and that the remaining two individuals who have yet to bring charges against McCabe and the Diocese are seriously considering filing suits.

Pleading for lenience for his client, Beles has stated that the ex-priest has been in the U.S. for over two decades and that the charges go back nearly 35 years. Piscitelli's response to this was frank:

"He is a spineless coward, and we're sick and tired of hearing excuses. He needs to face justice."