Bishop Eddie Long Sued: Accused of Defaulting on Property Loan

By Naimah Jabali-Nash
CBS News
October 12, 2010

http://www.cbsnews.com/8301-504083_162-20019311-504083.html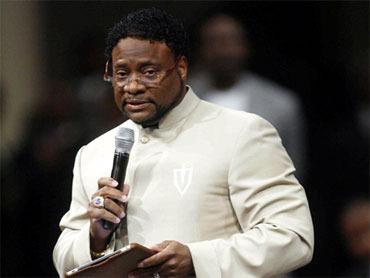 Bishop Eddie Long at New Birth Missionary Baptist Church.



DECATUR, Ga. (CBS/AP) Bishop Eddie Long, the outspoken Atlanta megachurch pastor accused of coercing four young men into sexual relationships, has been sued over a business deal to purchase an Atlanta-area gym.

On Monday, mortgage company State Bank and Trust and the Federal Deposit Insurance Corp. filed suit against Long and his partners, alleging that the three owe over $1.8 million on a defaulted property loan.

PICTURES: Bishop Eddie Long

The lawsuit says Long and two business partners, Marrion Heflin, a freelance businessman, and Frederick Folson, who manages a non-profit organization, signed an agreement to purchase Hoops N' Fitness in Jonesboro back in 2007, according to the Atlanta Journal Constitution (AJC).

The seller in the deal, Danny Wright, filed suit last year, claiming that none of that debt had been paid, and settlement on that suit is still pending, reports the paper. The new lawsuit filed by the Federal Deposit Insurance Corporation, and the mortgage company, State Bank and Trust, alleges the three parties owe $1.86 million on the defaulted loan, along with $32,000 in interest.

Long, pastor of the nearly 30,000-strong congregation of New Birth Missionary Baptist Church, had previously been sued by four men who accuse him of abusing his "spiritual authority" by seducing them with lavish trips, cars and jewelry in exchange for sex when they were teenage members of his church.

According to CBS affiliate WGCL, the men say they were 17 or 18 when the relationships began. Local and state authorities have declined to investigate because Georgia's age of consent is 16.

Heflin claims he is not a friend of Long's and is not affiliated with his church. He told the local paper that he did agree to forge a business relationship with Folson and Long. The three men formed the West Indies Holding Company in 2005 and purchased the gym two years later, reports the Constitution.

A few months after purchasing the gym Heflin said he left the country and did not have any contact with Long or Folson, according to the paper.

"I never made any payments personally, but I can't speak for West Indies," he told the AJC Monday. "All I know is when we acquired Hoops N' Fitness, we had a grace period before we had to start paying. We had some differences with the business execution and I decided to cut back."

Long's spokesman, Art Franklin, says he's unfamiliar with the lawsuit and refused to comment on the new allegations against the pastor.