The Rev. Gregory Uhrig's Accuser Reported Abuse Allegations to Another Priest, Diocese Says

By Jim Deegan
The Express-Times
October 13, 2010

http://www.lehighvalleylive.com/breaking-news/index.ssf/2010/10/victim_of_alleged_abuse_by_rev.html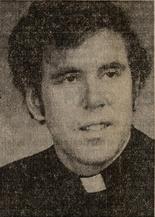 The Rev. Gregory Uhrig, pictured in 1983. He served St. Anthony's in Easton from 1978 to 1982.



A parishioner in the Diocese of Allentown who alleges sexual abuse by a priest about 30 years ago first reported the allegations to another diocesan priest in late spring, an official said today.

Diocese spokesman Matt Kerr said he doesn't know to which parish the Rev. Gregory Uhrig was assigned when the alleged misconduct against a minor happened.

Thirty years ago, Uhrig was stationed at St. Anthony of Padua Church in Easton. He was there from 1978 to 1982, then moved to St. Ursula's Church in Fountain Hill until 1983, when he took a temporary assignment in the Diocese of Metuchen, according to Express-Times archives.

"I don't have the information," Kerr said this afternoon when asked about where the alleged abuse occurred.

Uhrig, 63, is pastor of St. Luke's Roman Catholic Church in North Plainfield, N.J., in the Diocese of Metuchen.

He was removed as pastor last week because of the allegations and has denied any wrongdoing, said Bishop Paul G. Bootkoski, head of the Diocese of Metuchen. Bootkoski notified St. Luke's parishioners in a letter dated Oct. 9.

After learning of the allegations, Allentown officials contacted Metuchen and law enforcement authorities in Pennsylvania, who did not pursue charges because the statute of limitations had expired, Bootkoski's letter said.

Uhrig left the Diocese of Allentown for New Jersey in 1993 and has been in the Diocese of Metuchen for the past several years, according to Express-Times archives.

Kerr said the allegations came to light late in the spring; he wouldn't say if the person who reported them was a man or a woman.

Kerr said the Allentown diocese's victim assistance coordinator is working with the accuser and will continue to do so as long as the person wishes.

Kerr said the diocese encourages victims of sexual abuse by priests, past or present, to come forward.

"In every parish bulletin in the diocese there is information on how to contact the diocese if something like this has happened to you or is part of your past," he said. "That's an ongoing thing."

Kerr said there were no reports of misconduct by Uhrig during his tenure in Allentown.

"To my knowledge, there was nothing in his time here that the diocese was aware of," Kerr said.