Catholic Archdiocese of St. Paul and Mpls. Announce Changes This Weekend

By Sasha Aslanian
Minnesota Public Radio
October 15, 2010

http://minnesota.publicradio.org/display/web/2010/10/15/archdiocese-changes/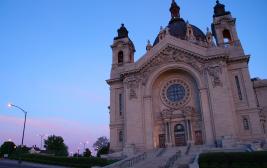 Cathedral of St. Paul.




St. Paul, Minn. — The Catholic Archdiocese of St. Paul and Minneapolis will announce significant changes to its parishes over the weekend.

A strategic plan, 20 months in the works, will recommend some parishes merge and close churches, and others will cluster and share priests.

Father John Bauer, pastor of the Basilica of St. Mary in Minneapolis, helped lead the strategic planning. He said declining enrollment in the core cities, priest shortages and financial strain made the changes necessary.

"As we look at our numbers, we see that 32 percent of our masses are less than one-third full, so we need to do something to have the masses where the people are," Bauer said.

Bauer said parishioners will learn about the changes at during Saturday evening and Sunday morning masses.

"We want to assure people that they're not going to show up next week and find the doors locked and barred," Bauer said. "But there will be an opportunity for those parrishes that are affected to plan how they want to merge or how they want to begin a clustering arrangement with another parish."

Parishioners will also learn which parishes are affected through the Archdiocese of St. Paul and Minneapolis' website at 4:00 p.m. Saturday.