More Than 20 Churches to Close under Plan to Restructure Twin Cities Archdiocese

By John Brewer
Pioneer Press
October 15, 2010

http://www.twincities.com/ci_16351330?nclick_check=1

[Alphabetical list of parishes with respective status under the plan]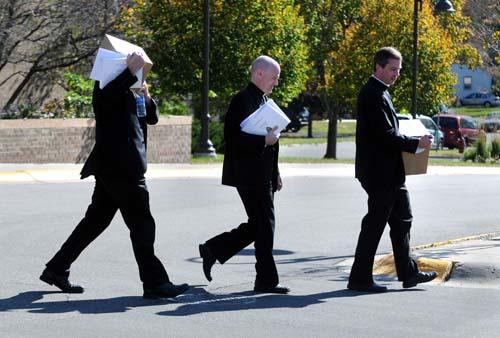 Unidentified priests leave St. John the Baptist Catholic Church in New Brighton Friday, October 15, 2010 carrying boxes of booklets outlining the proposed changes that will be officially announced Saturday. Roman Catholics in the Twin Cities face the most sweeping changes in their church since World War II as Archbishop John Nienstedt releases plans to reorganize the 800,000-member, 213-parish Archdiocese of St. Paul and Minneapolis. Roughly 300-400 priests attended the meeting Friday, according to two priests in attendance.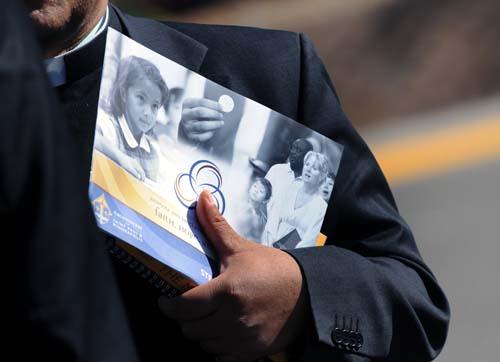 A priest carried a booklet that will be given to parishioners Saturday and Sunday outlining the most sweeping changes in their church since World War II. About 300-400 priests met at St. John the Baptist Catholic Church in New Brighton Friday October 15, 2010 to hear about the propsed changes before sharing them with their congregations.



More than 20 churches will close and dozens more will share pastors in a bold restructuring of the Archdiocese of Saint Paul and Minneapolis that was announced to priests and some parish staff and parishioners Friday.

The move by Archbishop John C. Nienstedt — brought on by financial and demographic changes in the archdiocese — is meant to strengthen the Roman Catholic church across 12 counties by conserving resources, sharing programming and ensuring that every parish has a pastor at its helm.

The strategic planning document, subtitled "Promote and proclaim a communion of faith, hope and love," includes a letter from the archbishop, a list of strategic initiatives and a list of all parishes and their future under the plan.

While many parishes will see no structural changes under the reorganization, 21 are slated to close and merge with other churches. The closures represent a 10 percent reduction in the total number of parishes across the archdiocese.

"While the merging and clustering of parishes will involve significant challenges, we must have faith that great good can come about when we work together. As our patron St. Paul reminds us, we are called to be one body in Christ (1 Corinthians 12:12)," Nienstedt wrote. "The Church is not primarily about buildings; it is about people and relationships fostered in and through Christ."

In the mergers, one church is always designated as the receiving church; one or more others are called the merging

Advertisement parishes. The merging parishes are the churches that eventually will close.

In St. Paul, five parishes are slated to close their churches and merge their congregations with other parishes. The five are:

—St. Andrew, which will be folded into Maternity of the Blessed Virgin.

—St. Francis de Sales, which will merge with St. James.

—St. John, which will merge with St. Pascal Baylon.

—St. Thomas the Apostle, which will merge into Blessed Sacrament.

—St. Vincent de Paul, which will merge with the Cathedral of St. Paul.

In South St. Paul, St. Augustine is planned to merge with Holy Trinity, also in South St. Paul.

In Hugo, St. John the Baptist is slated to merge with St. Genevieve in Centerville; St. Genevieve would be the receiving parish.

In Minneapolis, a tight grouping of churches in Northeast were slated to merge: St. Anthony of Padua would remain open while the parishioners of Holy Cross, St. Clement and St. Hedwig would join St. Anthony.

The details of the plan were distributed to more than 300 priests at a closed meeting at St. John the Baptist Catholic Church in New Brighton Friday morning and delivered to the 213 parishes in the archdiocese throughout the rest of the day.

The complete plan will be distributed among the 800,000 worshippers in the archdiocese following masses Saturday and Sunday. It will also be posted on the archdiocese website, archspm.org, at 4 p.m. Saturday.

Friday night, pastors across the metro were to sit down with parish leadership and staff and share the news.

At St. Matthew's on the West Side of St. Paul, about 100 parishioners drank soda and ate pizza at long folding tables as Father Steve Adrian spoke over the social hall's announcement system.

At his 2,000-member parish, people learned that the church was going to be clustered with St. Michael of West St. Paul over the next 18 months, meaning the parishes would work to share staff, programming and eventually a single pastor. Once the two parishes have clustered, a third — Our Lady of Guadalupe in St. Paul — would be folded into the mix, too.

"Only to the degree that the members are able to wrestle through this, will it work," Adrian said. "(This parish) is not mine, it's yours."

Clustering arrangements would not go into effect before June 1, 2011, according to the strategic plan.

"...parishes in a cluster arrangement retain their parish status and basic organizational structure," the document said. "...clustering does not necessarily lead to the merger of parishes."

Longtime St. Matthew's parishioner Gloria Deziel of Woodbury questioned how much attention one pastor could give to three parishes.

"It's one thing to cover masses," she said. "But there's a lot that happens between Sunday and Sunday. I'd like to see my priest more often than Sunday."

"There's going to have to be a new definition of what a priest does," Adrian said.

Many parishes would see no structural change, according to the plan. Others might enter collaborations, which would maintain individual pastors but foster shared programming and resources.

Even parishes scheduled for mergers can appeal to the archbishop. The review process on appeals could take up to two months.

A further sharing of resources will come from the establishment of three regional vicariates, where a regional vicar appointed by the archbishop will help to organize governance, programming and financial administration across each vicariate, according to the plan. The archdiocese was last divided into vicariates from 1986 to 2000.

The future of the 98 schools in the archdiocese is left in the hands of the parish communities, according to the document, which mentions a process of self-review for all schools followed by parish-based decisions on sustainability. If the parish deems a school unsustainable, the school could close.

A national consultancy group is assisting the archdiocese to begin the review process sometime after November.

The archdiocese plans to further explain the strategic plan and its implications for area parishes at a Sunday afternoon meeting with local media.

John Brewer can be reached at 651-228-2093.

Contact: jbrewer@pioneerpress.com