220 Rally for Priest

By Wes Woods II
The Sun
October 16, 2010

http://www.sbsun.com/news/ci_16359915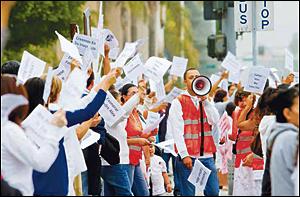 Gabriel Cortez of Our Lady of Guadalupe Church, Ontario, speaks to a crowd of about 220 outside the headquarters of the Diocese of San Bernardino on Saturday to support the Rev. Alex Castillo, who is facing sexual misconduct allegations.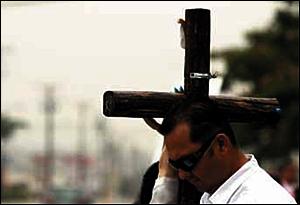 Carlos Torres, a parishioner at Our Lady of Guadalupe Church, Ontario, shows his support for the Rev. Alex Castillo Saturday in San Bernardino.



SAN BERNARDINO - More than 200 parishioners and friends of a Catholic priest accused of sexual misconduct involving two teen brothers demonstrated their support for the clergyman Saturday on a sidewalk near the headquarters of the San Bernardino Diocese.

The Coalition to Exonerate Father Alex showed its support for the Rev. Alex Castillo of Our Lady of Guadalupe Church, who is facing the accusations. Members wore white, chanting "We want justice," and held signs such as "Father Alex, We Believe in You !!!" in English and Spanish next to the Diocesan Pastoral Center, 1201 E. Highland Ave., San Bernardino.

The diocese was contacted June 24 by the boys' parents and told of the alleged abuse.

Castillo maintains his innocence and has not been charged with a crime.

Police say they are investigating the allegations, which the diocese made public after reviewing them.

"It's a demonstration of love and support for Alex Castillo," said longtime friend Ted Campos, and spokesman for the Coalition to Exonerate Father Alex, referring to Saturday's event.

While Castillo was not at the event, Campos read a statement from him. It said in part: "I am very grateful for all the support and love for all those who believe in me. With your support and my faith I have been able to make it through this difficult time. I look forward to returning to minister to all my faithful. God bless each of you."

Ontario Police Sgt. David McBride said on Friday there was nothing new in the Castillo investigation.

"The case is still ongoing. Nothing can be commented on."

Campos said he was told not to hold the rally Saturday morning. Andrews - the diocese spokesman - confirmed that.

"I've talked to Ted Campos and asked him not to do that, and they're going to do it anyway, so that's unfortunate," Andrews said.

There was extra security at the diocese, and Campos' group was told in advance not to be on church property.

"We certainly understand the support these people have for Father Alex, but we don't have specific information about the allegations, and they should really respect the process we have to protect kids and respect the leadership of the bishop," Andrews said.