Pope Makes Saint of Nun Who Exposed Sexual Abuse

By Philip Pullella
Reuters
October 17, 2010

http://ca.reuters.com/article/topNews/idCATRE69G0K220101017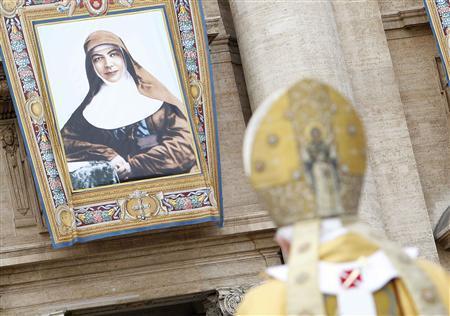 Pope Benedict XVI stands in front of the tapestry showing new Australian Saint Mary of the Cross MacKillop as he arrives to lead a solemn mass for the canonisation of six new saints in Saint Peter's square at the Vatican October 17, 2010.



VATICAN CITY (Reuters) - Pope Benedict on Sunday gave Australia its first saint, a 19th century "whistleblower" nun who activists say should be the patron of victims of sexual abuse by priests because she was punished for exposing it.

At a solemn ceremony in St Peter's Square, the pope canonized Mother Mary MacKillop as well as five other church figures from Poland, Canada, Spain, and Italy who lived in the 15th to 20th centuries.

Tens of thousands of Australian pilgrims travelled to Rome to attend the mass where the pope read a sainthood decree for MacKillop, one of the few saints in Church history who were excommunicated and later rehabilitated.

A maverick and feisty upstart in the spirit of her young nation, MacKillop, the daughter of Scottish immigrants, founded the Sisters of St Joseph of the Sacred Heart in 1867 to help the poor and educate their children.

Independent-minded, she regularly clashed with the church's male hierarchy and the tensions led to her excommunication -- the Catholic Church's harshest penalty, which denies the sacraments to a person -- in 1871. The order was later lifted.

Documents recently uncovered in Australia showed that MacKillop was banished from the Church in part because her order uncovered a case of sexual abuse of a boy by an Irish priest.

In his homily at the mass, the pope did not mention any of MacKillop's travails with the male Church hierarchy but spoke of her "saintly example of zeal, perseverance and prayer" and the many challenges she faced.

In the wake of the new documents, some activists in the Church have called on the Vatican to declare her the patron saint of those who suffered sexual abuse by priests.

"WHISTLEBLOWER" SAINT

The Rev. James Martin, a prominent Catholic commentator, wrote recently in America, the journal of the Jesuits in the United States, that such a designation would be appropriate for a person he called a "whistleblower" saint.

"Only recently has the Church begun to see whistleblowers as necessary -- and holy," wrote the influential commentator. "Victims and victims' families now have someone new to pray for them in their struggles for justice and reconciliation."

The Catholic Church has been rocked by scandal involving the sexual abuse of children by priests over a period of decades. The Pope met with victims of sexual abuse on most of his recent foreign trips, including in Australia in 2008.

The Catholic Church has credited MacKillop for interceding with God in what the Church considers two miracle cures, the latest that of Kathleen Evans, who was cured of lung and brain cancer in 1993 after praying to MacKillop.

Another Australian woman, Veronica Hopson, 72, was inexplicably cured of leukemia in 1961 after praying to MacKillop.

The order founded by MacKillop, who died in 1909, now has more than 850 members, who run schools, care homes for the aged and do community work in Australia, New Zealand, East Timor, Ireland, Scotland, Peru and Brazil.

More than a century after her death, she remains one of Australia's most revered figures, honored even by declared atheists such as the country's Prime Minister Julia Gillard.

The pope also canonized two Italian nuns, Giulia Salzano and Battista Camilla da Varano, Spanish nun Candida Maria de Jesus Cipitria y Barriola, Brother Andre Bessette of Canada, and Stanislaw Kazimierczyk of Poland.