Tulsa Diocese Works to Prevent Abuse

By Bill Sherman
Tulsa World
October 17, 2010

http://www.tulsaworld.com/news/article.aspx?subjectid=11&articleid=20101017_18_A1_CUTLIN328731

Sylvia Villaneuva was clearly disturbed last week as she and 15 other Catholics watched a training video in which sexual predators explained how they methodically groomed their victims, sometimes for months, before molesting them.

And victims described the devastating effect of abuse on their lives.

"I was disgusted," she said at a training session at Church of the Madalene in Tulsa.

"It makes me terrified to send my child anywhere."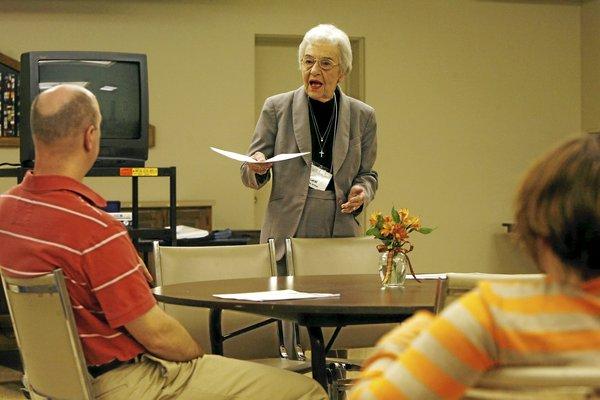 Facilitator Carol Robinson leads the discussion last week at the Church of the Madalene during a training program on child abuse that is required of all clergy, teachers, volunteers and staff in the Catholic Diocese of Tulsa.
Photo by James Gibbard


Villaneuva is one of nearly 12,000 people in Diocese of Tulsa who have taken training instituted to protect children in the wake of the clergy abuse scandal that hit the Catholic Church in early 2002.

The training is required of everyone who has contact with children in the diocese, from priests to janitors to grandmothers who want to read stories to their grandchildren's classes once a month.

Villaneuva took the class so she could volunteer at her child's church school in Bartlesville.

The training programs are one arm of a multipronged strategy set forth in the Charter for the Protection of Children and Young People, developed by a U.S. Catholic bishops meeting in 2002 in Dallas. Nearly every diocese in the nation has adopted the charter.

In addition to extensive training programs for children and the adults who work with them, the charter calls for the creation of review boards to investigate allegations of abuse, pastoral care for victims of abuse, transparency in dealing with the public, full reporting to and cooperation with civil authorities and background checks for everyone who works with children.

Dioceses are audited each year to measure compliance with the charter.

Moral strength

"This is a very expensive process but we have to do it," Tulsa Bishop Edward J. Slattery said, "first for the protection of children, and secondarily, for our own credibility."

Nationally, U.S. Catholic churches pay more than $20 million a year for child safety programs. The Tulsa Diocese has paid $68,600 for training over the past eight years, according to diocesan chief financial officer Tom Schadle. They have also spent $54,700 for counseling for victims and their families and $220,000 for background checks.

Mary Malcom, who heads the child protection programs in the diocese, said that though it is a requirement for some, she encourages all parents and grandparents to also take it. The training program is called VIRTUS, from a Latin word than means moral strength or excellence.

As coordinator of catechetical services for the diocese, Carol Robinson has conducted many of the training sessions.

"It's a real challenge, but it's a lot of fun to do. You see people's attitudes change," she said.

"I've had people walk out of the session crying because it's (previous abuse) all coming to the surface."

Deacon John Johnson, chancellor of the diocese, said the training programs have created awareness of the issue and de-stigmitized it.

"People just didn't talk about it," he said.


The Diocese of Tulsa also has implemented a K-12, age-appropriate "Protecting God's Children" curriculum by VIRTUS that is taught to Catholic children throughout the diocese. It begins in kindergarten with "touching safety rules."

Nationally, the clergy abuse crisis has cost the U.S. Catholic Church a total of $2.7 billion, most of it in settlements to victims. Costs peaked in 2007 and have dropped dramatically since then.

No settlement costs

Schadle said the Tulsa Diocese has not paid any settlement costs since the national scandals broke.

"We've been fortunate," he said.

While the diocese has been busy with its child safety programs, work for the panel that investigates clergy abuse has been minimal.

"It's been extremely slow since 2004," said Cherie Hughes, chair of Slattery's Diocesan Review Board.

The review board made the news this summer when a Denver man accused a Claremore priest of abuse he alleges occurred more than 30 years ago. In the seven previous years, the panel conducted only two other investigations. It found no evidence of clergy abuse in any of the cases.

Slattery said when an allegation is made against anyone in the diocese - clergy, staff or volunteer - the matter is immediately referred to civil authorities. Meanwhile, the review board determines if the accused person should be suspended while the charge is investigated.

"You don't just take a man out of his position without credible information," he said. "Few cases that have come forward in Tulsa have been credible."

And the diocese stays in contact with the alleged victim and the family, offering counseling and other pastoral help.

Slattery said the board, which meets annually and whenever a case comes up, investigates and makes recommendations to him.

Bob LaFortune, former Tulsa mayor and the only board member who has been on the panel from the beginning, said he was "very comfortable with the independence of the board."

'Fine men'

He said he also is on the national executive committee of the Boy Scouts of America, which faced similar issues and developed rigorous standards to deal with them.

Hughes, a professor at Tulsa Community College, said the board members are an "outstanding group of people" who are "extremely serious about their work."

"These are not the kind of people who will tell the bishop what he wants to hear; we vote our own conscience as individuals."

Tulsa attorney John Gaberino, former board chairman, said the Tulsa Diocese has been "fortunate to have priests who were fine men. We weren't involved in any of the issues that became prevalent around the country, and around the world."

Slattery said he would like to see wider use of the programs developed by the Catholic Church.

"Public schools could follow our example in this," he said. "There's no point in re-inventing the wheel."

Summary of board's actions

Cherie Hughes, chair of Slattery's Diocesan Review Board, summarized the board's eight years of activity as follows:

• In 2002, Kelly Kirk accused the Rev. Paul Eichhoff, now pastor of St. Cecilia's Catholic Church in Claremore, of abusing him and another boy on two successive days in the late 1970s when Kirk was a student at St. Mary's Catholic School in Brookside. Eichhoff was suspended for three months while the board investigated the case. The board found the allegations without merit and re-instated Eichhoff. Kirk also sued Eichhoff in Tulsa District Court. A jury ruled in Eichhoff's favor in 2004.

Two other abuse cases were reported to the board in 2002 that did not require an investigation:

The Rev. Ken Lewis, then-pastor of a McAlester church, was accused in 2002 of improper sexual contact with boys in 1993 and 1994, also at St. Mary's Church. Lewis resigned in 2002 before the board was created. He was later defrocked after an ecclesiastical trial. He denied any improper behavior; the statute of limitations on the case had expired.

The Rev. John Jangam was accused in the summer of 2002 of improperly touching a 13-year-old girl three years earlier while he pastored a church in Pryor. He had been excommunicated in 1999 for revealing details from a confessional and was returned to his native India.

• In 2003, it was reported to the board that the Department of Human Services had investigated a case involving the diocese and found no evidence of abuse.

• In 2007, the board investigated a suspicion by a third party that a priest may have behaved improperly with a girl on a youth retreat. The board interviewed the girl and her parents and determined nothing had happened.

• This year, Denver resident Paul Weber told the diocese that he was one of three boys Eichhoff molested in 1978. He said his memory of the event remained repressed for years, returning only recently while he was working with a therapist. He identified another of the boys as Kelly Kirk, a classmate.

The board investigated and found his story not credible. Eichhoff was not suspended and remains a popular pastor in Claremore.

Hughes said the board was unanimous in its Eichhoff decision. She said the Kirk and Weber stories, allegedly of the same event, were inconsistent, and the case did not "fit the profile" of child abuse.