Pope Says Abusive Priests Caused Great Damage but Can't Discredit Priestly Mission

Associated Press
October 18, 2010

http://www.google.com/hostednews/canadianpress/article/ALeqM5hNEa8i01kQNE1uWZN17eK9Lv9r5Q?docId=4868024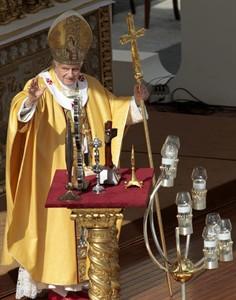 Pope Benedict XVI, in front of the relics of six new saints, blesses the faithful at the end of a Canonization Mass in St. Peter's square at the Vatican, Sunday, Oct. 17, 2010. Pope Benedict XVI gave Australia its first saint on Sunday, canonizing a nun who was briefly excommunicated and also declaring five other saints in a Mass attended by tens of thousands of people.



VATICAN CITY — Pope Benedict XVI has defended the celibate priesthood, saying that while abusive priests have caused shameful damage they can't discredit the priestly mission, which "remains great and pure."

The Vatican on Monday released a letter from the pope to seminarians again expressing "profound shame and regret" for the sexual abuse scandal that has rocked the global Roman Catholic church.

He said that "thank God, all of us know exemplary priests" who have chosen a life of celibacy.

Some have questioned whether celibacy is in part to blame, but the Vatican insists celibacy isn't responsible.

Recently two bishops from the scandal-hit Belgian church openly questioned the celibacy requirement.