D.c.'s Wuerl Among 24 New Cardinals Named by Pope Benedict

By Michelle Boorstein
Washington Post
October 20, 2010

http://www.washingtonpost.com/wp-dyn/content/article/2010/10/20/AR2010102001392.html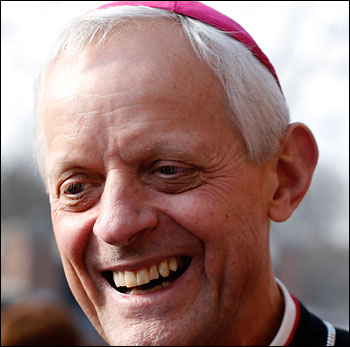 For years, there have been rumors that Washington Archbishop Donald W. Wuerl was destined to become a cardinal. He is considered a leading teacher of Catholic doctrine and a diplomat on explosive social issues.



Pope Benedict XVI on Wednesday named Washington Archbishop Donald W. Wuerl and 23 other Catholic leaders from around the world to join the elite College of Cardinals.

The highest-ranking officials in the Catholic Church after the pope, cardinals advise the pope and elect new pontiffs. The only other American on the list is Raymond Burke, the former archbishop of St. Louis, who currently works in a top position at the Vatican.

Wuerl, 69, is a cautious educator who shares the pope's top priority: eliminating ambiguity in an era of debate about Catholicism's position on everything from health care to human sexuality. He is considered a leading catechist, or teacher of Catholic doctrine, and a diplomat on explosive social issues.

In a phone interview, the cardinal-designate said: "The voice of the church should be a teaching voice. It should be a voice of persuasion. It should be offering spiritual, pastoral guidance."

Wuerl celebrated Mass before about 100 worshipers at St. Matthew's Cathedral in downtown Washington shortly after the announcement, telling those present that "this designation today is an honor for this church, the church of Washington, the church in our nation's capital."

The worshipers applauded him, and some even dropped to his feet as a sign of respect.

A staid, formal man who in most cases prefers to resolve issues out of the public eye, Wuerl drew headlines last year when he told D.C. officials that a proposal to legalize same-sex marriage could jeopardize the ability of Catholic Charities, a major provider of social services, to work in the city.

After the law passed, Catholic Charities ended its 80-year-old foster care program, in order to avoid placing children with same-sex couples. It also stopped providing spousal health-care benefits to new employees. Many Catholics and social service advocates were outraged by the actions, saying Wuerl should have found another way to reaffirm the church's opposition to same-sex marriage.

Wuerl has led committees of U.S. bishops on education and on doctrine and has been seen as headed for cardinalhood ever since he was moved to Washington from his home town of Pittsburgh in 2006.

Traditionally, however, popes don't name two cardinals from one diocese - and Washington already is home to Wuerl's predecessor, Cardinal Theodore McCarrick. Cardinals lose their right to vote for pope when they turn 80, however, and McCarrick turned 80 a few months ago, paving the way for Wuerl's designation.

Wednesday's announcement came during Benedict's weekly public appearance in St. Peter's Square. The pontiff sat under an awning, as is his custom, before a packed crowd enjoying the fall sunshine.

The formal elevation ceremony, called a consistory, will take place Nov. 20, at the Vatican, before hundreds of guests. A Mass with the pope will be held the following day, church officials said.

"Once they get hit with that red, they go global," Philadelphia-based Vatican-watcher Rocco Palmo said of becoming a cardinal and receiving the traditional red biretta, the square cap with three ridges or peaks worn by cardinals and other clerics. "You can be archbishop of a major city, but being made cardinal is your coming-out globally."

Benedict has called two previous consistories since he became pope in 2005. He has picked nearly half of the current cardinals, and soon will have personally chosen more than two-thirds of those who will be charged with electing his successor.

Once the consistory takes place there will be 203 sitting cardinals, 121 of whom are under 80 and can vote. In the first few months of 2011, five more cardinals will turn 80, including Baltimore's William Keeler and Bernard Law, who resigned from the Boston archdiocese in 2002 in response to the clergy sex abuse scandal.

Four of those chosen Wednesday are already 80 or older, meaning they cannot vote on papal matters but are being accorded the title as a special honor.

Wuerl said he believes that his class of cardinals and the next pope would prioritize what he called "the new evangelization" of the Western world, a place he described as distracted from God by technology, secularism and a furious cultural pace.

"This is the effort to re-propose the faith to people who have heard it and drifted away," Wuerl said Wednesday. He described the approach as "very different" from past priorities, such as missionary activity and building institutions.

There are more than 5,000 bishops around the globe. Many of those who Benedict chose to elevate are, like him, strongly traditional people who see debates about hot-button subjects such as female or married clergy or same-sex relationships as slippery slopes to relativism.

The pope lauds doctrinal expertise above almost everything; even his top diplomat - Vatican Secretary of State Tarcisio Bertone - is a theologian who had no previous diplomatic expertise.

However, the pope has urged clergy to be respectful and engaged with other faiths, including Islam.

"For this pope, the catchword will always be truth, but he is very concerned that what we say as Catholics resonates with people of good will," said Monsignor Kevin Irwin, dean of religious studies and theology at the Catholic University of America. "Dialogue, doctrinal clarity and respect."

Wuerl is seen as a typical example of that type of engaged conservative, experts said. He organized Benedict's 2008 visit to Washington - and was credited with its perceived success. The visit included a Mass filled with multicultural music and a blend of worship styles that some traditionalists objected to but other worshipers loved.

Wuerl is well known for refusing to deny communion to Catholic politicians who support abortion rights. Wuerl says he cannot deny the sacrament to a willing participant, because he cannot know what is inside a person's heart when he or she shares private worship with God.

Burke, in contrast, argues against giving communion to politicians who support abortion rights.

While Burke and Wuerl are like-minded on theology, they represent two different models on how to engage publicly with politics. Burke has been an outspoken critic of President Obama, for example, while Wuerl has not .

Wuerl is generally well liked in the archdiocese, although he lacks the folksy warmth and charisma that made his predecessor, McCarrick, very popular.

Some of Wuerl's critics have said he should use his perch in the nation's capital to more aggressively push Catholic teachings on such issues as war, peace, immigration and poverty. In the interview Wednesday, Wuerl said his view of the church as a "teaching voice" was "at another whole level than political involvement. . . . I think one of the things the pope reminded us in so many talks is the two are separate spheres."

In addition to the two Americans, Wednesday's list includes 10 Italians and two Germans. There is one cardinal-designate from each of the following countries: Egypt, Guinea, Switzerland, Zambia, Ecuador, Congo, Brazil, Poland, Sri Lanka and Spain.

The diversity of the list reflects the extent to which Catholicism continues to emerge in the developing world. At the same time, Vatican-watchers noted that the large number of Italian priests could increase the likelihood that Benedict's eventual successor could be from that country.

Cardinals typically come from either prime leadership posts at the Vatican or prominent dioceses. The Washington archdiocese, which is made up of the District and the Maryland suburbs, is not one of the country's largest in numbers, but it has stature because it includes the U.S. capital and the international diplomatic community. All but one of Washington's six archbishops has been named cardinal at some point during his tenure.

Wuerl, during his appearance at St. Matthew's, said he was filled with joy at his selection and was looking forward to wearing the red biretta.

"I hope that the new hat will provide a new opportunity for some to hear the message," Wuerl said. "The message in many ways is the same: God loves us and it is possible to love one another and it is possible that you can build a kingdom of compassion, a kingdom of love."

Special correspondent Sarah Delaney in Vatican City and staff writer Hamil R. Harris in Washington contributed to this report.