First Study of Chicago Catholics Reveals Unwavering Faith

By Manya A. Brachear
Chicago Tribune
October 20, 2010

http://www.chicagotribune.com/news/religion/ct-met-catholic-study-greeley-20101020,0,4039224.story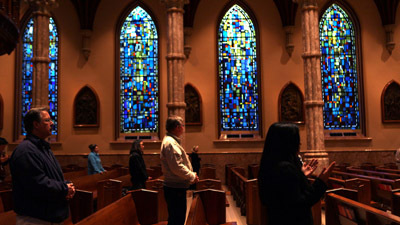 A small group listens to Rev. Thomas Aschenbrener during mass at Holy Name Cathedral on Tuesday.. (Abel Uribe/Tribune)



Public outcry about the sex-abuse crisis, disdain for arrogant bishops and disagreement with church doctrine about birth control and abortion rights have not eroded the faith of Roman Catholics in Chicago, according to an unprecedented study of the archdiocese by one of the nation's preeminent Catholic scholars.

In fact, the study, to be unveiled Wednesday, reveals an even deeper faith on the part of young Chicago Catholics who are "more at ease with the practice of being Catholic on their own terms."

The first comprehensive study of Chicago Catholics likely will be the last word from the Rev. Andrew Greeley, the renowned and prolific priest, sociologist and author who suffered a near fatal brain injury when he fell getting out of a cab in 2008.

Publication of "Chicago Catholics and the Struggles Within Their Church," made possible by Greeley's colleagues, fulfills the original assignment Greeley, now 82, received more than 50 years ago. It is based on data from 524 Catholics in Cook and Lake counties contacted by the Survey Lab at the University of Chicago in 2007.

Register with Chicago Tribune and receive free newsletters and alerts >>

"I was sent to graduate school by Cardinal (Albert) Meyer to learn how to do sociology and then study the Archdiocese," Greeley wrote in the foreword of his 105th nonfiction book. After Meyer's death in 1965, the archdiocese "did its best to forget about his existence," Greeley said. "I had wanted to do this study for all my life as a sociologist. Entering my ninth decade, I figure it was time to do it."

Among the findings were revelations that set Chicago apart from other cities and reflected national trends. For example, like most American Catholics, parishioners gave a higher approval rating to their parish priest than Pope Benedict XVI and Cardinal Francis George, who received an 86 percent approval rating.

In addition, 78 percent of the respondents said Catholicism is either "extremely important" or "very important" in their lives.

Greeley wrote that the survey suggests "two separate Catholic identities — an imaginative, story-telling identity and a rules identity," commonly referred to as "Cafeteria Catholics." Those Catholics revere the sacraments and run in primarily Catholic circles, but they make their own choices on moral, religious and political issues.

"The only safe prediction seems to be that … there will be, whether the leadership likes it or not, varied forms of affiliation with a Church most of them still love," Greeley wrote. "Not Cafeteria Catholics so much as Smorgasbord Catholics, a rich and diverse collection of ways to affirm one's Catholicism."

In addition to high approval ratings for parish priests, Greeley also found that in many respects the 20- and 30-something crowds are more devout than older generations. And about 40 percent of the lapsed Catholics who have left are open to the possibility of returning to the fold, he concluded.

Roger Frank, 66, a member of Holy Name Cathedral for 30 years, said he doubts that parishioners have such an enduring high opinion of church leaders. But he's not surprised by the youthful fervor.

"Faith is a strange thing. It comes in waves," Frank said. "And with young people this is their first wave and it's very close. It's very entertaining. And as they become closer to adulthood, it's like they've got to deal with the weight of the world, so to speak. And faith wanes with that."

The Rev. John Cusick, director of young adult ministry for the archdiocese, said Greeley's data confirm his observations.

"I've always felt that when Andy Greeley has something on his plate, he's really researched it .. and I've got to find out how to make that work," said Cusick, who considers Greeley a mentor. "When you're in the trenches, you have to find people who do some of the thinking and data gathering on your behalf. That's why Andy Greeley was such a magnificent gift to the Catholic Church in Chicago."

Throughout the book's publication, colleagues attempted to stay true to Greeley's process and voice. They shielded the manuscript from public view until it was ready, said Tom Smith, director of the Center for the Study of Politics and Society at the National Opinion Research Center at the U. of C. Even the cardinal will be surprised by the finished product, Smith said.

"It's 98 percent verbatim Andy," said Smith, who noted minor revisions were necessary. "Andy's voice comes out over and over again — the way he would phrase certain things and blend his own anecdotal accounts with the data."

Colleagues and relatives say Greeley's experience and instincts also informed the research and analysis. For example, his nephew Sean Durkin said Greeley expressed pleasant surprise that almost half the Catholics surveyed said their five closest friends were Catholic. Greeley's instincts led him to ask the question in the first place, his nephew said.

"One of his beliefs about Catholicism is that it is a communal religion, and this was something that would probably support that theory," Durkin said.

Durkin said those instincts remain despite significant damage to Greeley's frontal lobe. Though his condition has stabilized in the last year, his ability to reason and communicate wavers, Durkin said.

Part of the motivation behind this particular book was the idea that his career was winding down and time was running out to carry out his original mission, Durkin added.

But the study also serves a practical purpose.

"[Leaders] have to be aware that the church is [perceived as] too authoritative, makes too many rules. Its sermons tend to be uninspiring," Smith said. "There are a lot of areas in which the survey can point to areas where the church might want to try to strengthen."