Judge Keeps Hold on Vatican Funds

By Stacy Meichtry
Wall Street Journal
October 20, 2010

http://online.wsj.com/article/SB10001424052702304011604575564491841835102.html?mod=googlenews_wsj

A judge ruled that ˆ23 million ($31.8 million) in Vatican funds should remain frozen as part of a probe by Italian prosecutors into whether top officials of the Holy See's bank violated Italy's anti money-laundering laws by ordering the transfer of funds to certain Italian and German banks without disclosing the nature of the movements.

The move comes as the prosecutors are broadening their probe, looking at the Vatican bank's transactions with other Italian financial institutions, said people familiar with the matter.

Judge Maria Teresa Covatta's decision to keep the funds frozen is a setback for the Vatican, which has denied that any of its officials acted improperly and that the investigation is the result of a "misunderstanding" between the bank and Italian authorities.

Vatican spokesman Rev. Federico Lombardi said Wednesday that the ruling "has been met with stupor" and that "We're dealing with a problem of interpretation."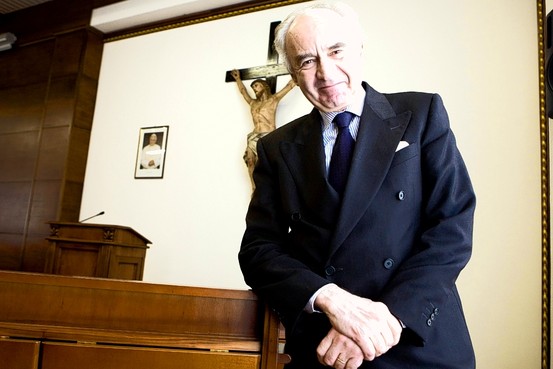 Ettore Gotti Tedeschi says Vatican bank operates with 'absolute transparency.'



Father Lombardi added that "IOR managers believe they can clarify the whole issue as soon as possible with the appropriate authorities."

Judge Covatta didn't release the text of her motivations for the ruling.

The two officials put under investigation in September are Ettore Gotti Tedeschi, chairman of the Institute for Religious Works, or IOR, as the Vatican bank is known, and the bank's managing director, Paolo Cipriani.

Neither has been charged in the probe.

The Vatican has previously said the bank ordered the transfer of most of the ˆ23 million in funds from an IOR account at regional lender Credito Artigiano, to a branch of J.P. Morgan in Frankfurt in order to purchase German bonds.

Mr. Gotti Tedeschi has denied any wrongdoing, saying the bank operates with "absolute transparency."

Approached on the sidelines of a Rome conference on finance and ethics, he declined to comment.

The Vatican hasn't made Mr. Cipriani available for comment.

Credito Artigiano and J.P. Morgan have declined to comment.

As prosecutors broaden their probe, they are looking at the activity of accounts the IOR has opened at Italian banks on behalf of Vatican bank clients over the years, a person familiar with the matter said.

Prosecutors are trying to determine whether IOR clients used the Vatican bank accounts as a screen to mask the transfer of funds to Italy from Vatican City, which is a sovereign state outside the jurisdiction of Italian financial regulators, this person added.

Father Lombardi declined to comment on any detail of the broadened investigation.

Traditionally, the IOR's clients have been Vatican officials and clergy, who receive salaries and other funds from the Holy See into their IOR accounts.

For years, the IOR has transferred funds to its accounts at other banks on behalf of its clients without fully disclosing their client's identities.

In 2007, however, Italy introduced tougher disclosure laws, requiring banks to list the names of people who receive funds from IOR accounts and the reason for the transaction.

Over the past year, a number of accounts in Italian banks, registered under the IOR, have breached those laws, said the person familiar with the matter.

The Vatican has said its bank accounts in Italy are registered under the IOR, and not under the names of its clients.

Mr. Gotti Tedeschi and other Vatican officials have said they are reviewing the bank's practices with the aim of bringing the IOR up to code with the Organization for Economic Cooperation and Development's anti money-laundering standards.

Write to Stacy Meichtry at stacy.meichtry@wsj.com