Eddie Long Says Church Is Still Standing Faithful

By Shelia M. Poole
Atlanta Journal-Constitution
October 20, 2010

http://www.ajc.com/news/dekalb/eddie-long-says-church-685921.html

Bishop Eddie L. Long, in an apparent reference to his recent legal problems, told worshippers that he thought he knew who his enemies were, but it turned out to be the "grinners in my face."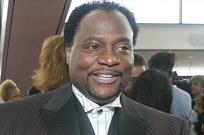 Bishop Eddie Long said that if people believed media reports, "I'd be scared to show up, I'd be scared to look at you. But there's something in me bigger than the situation."



"You need to watch them people," said Long during the Tuesday night empowerment service at New Birth Missionary Baptist Church, which was viewed on streamingfaith.com. Long spent much of his sermon talking about standing in faith in the wake of life's storms.

Indeed, facing with the trials and tribulations of life and the belief that God will always be there during times of need have been common themes during Sunday and Tuesday services. Tuesday, he said, that the measure of one's maturity in faith is not measured "by how you do in the sunshine."

Long has been sued by four young men who allege he used his position, lavish trips, jobs and gifts to coerce them into sexual relations. New Birth is also named in the suits, which Long has said are untrue. He's also a defendant in a lawsuit that alleges he and two other defaulted on a property loan. The suit, filed in DeKalb County State Court, is seeking $1.9 million.

On top of those lawsuits, the church has been sued by a former employee, Tama Colson, for sexual harassment and discrimination. The prominent minister's troubles have drawn international attention. A South Carolina minister has planned a rally in Atlanta at the end of the month, calling for Long's resignation. Bishop Prophet H. Walker of True Light Pentecost Church in Spartanburg called Long "a bad influence on the Christian church and future generations."

"When you're doing well, everybody ain't happy," he said.

He said he knows that members have been asked why they are still going to New Birth. But "I didn't build New Birth and because I didn't build it, I can't kill it," he said. "God started this. I'm not worried about the future of New Birth because hell can't stop what God has started."

Long said he recently heard from a 12-year-old girl. The girl said she wanted to thank Long for getting up to preach when people are talking about him and for "still standing." She said Long's actions has taught her about adversity and "learning how to stand by the way you stand."