Kansas City Lawsuit Accuses Reno-area Priest of Sexual Assault

By Martha Bellisle
The Register-Journal
October 21, 2010

http://www.rgj.com/article/20101021/NEWS01/101021073/1321/news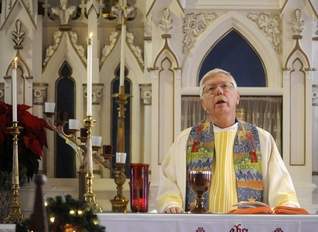 Father Tom Cronin leads the Christmas morning mass at Saint Mary in the Mountains Catholic Church in Virginia City on Friday, Dec. 25. 2009. (David B. Parker/RGJ file)



A Catholic priest working in the Reno area was accused in a civil lawsuit filed in Kansas City, Mo., of molesting and sexually assaulting a 17-year-old church member beginning in 1979 and continuing for several years.

The girl had allegedly told the Rev. Thomas Cronin during confession that she had been sexually abused by a relative, the suit said. Cronin allegedly responded by touching and kissing her, and then began regularly forcing her to have sex while telling her that she was special and "part of God's plan," the suit said.

The suit, which seeks unspecified damages, also names the Catholic Diocese of Kansas City-St. Joseph and another priest, John Tulipana, who resigned from the priesthood in 1994 after the diocese received complaints of sexual misconduct with minors, the diocese said.

Cronin, parish administrator for St. Mary's in the Mountains in Virginia City, is on a leave of absence while the Diocese of Kansas City, where he was ordained, investigates the allegation, said Brother Matthew Cunningham, spokesman for the Diocese of Reno.

Cronin also worked as a chaplain at Washoe Medical Center, now Renown Health, in 1998-99 and was pastoral administrator at St. Robert Bellarmine in Fernley from 2000-04.

Cronin could not be reached for comment, but he denies the claims, Cunningham said. Cunningham also said the Reno diocese was not told of any allegations against Cronin when he came to Reno in 1998, and it has not received complaints of inappropriate sexual behavior since he has been here.

Bishop Randolph Calvo has not officially told the Virginia City parish about the allegations, nor has he told parishioners that Cronin is on leave, Cunningham said.

"He's not in town right now," Cunningham said of Calvo. "He may choose to do that in the future."

When asked why they did not immediately notify the parish of the allegations made in the suit, which was filed on Oct. 1, or immediately place Cronin on leave, Cunningham said it took some time to reach the officials in Kansas City to find out what they planned to do.

Calvo only spoke with Cronin on Tuesday, and his leave began at that point, Cunningham said.

"Before he would say something, he wanted to have solid information before going before the congregation," Cunningham said. "It was for no other reason but for lack of information."

David Clohessy, executive director of the St. Louis-based Survivors Network of Those Abused by Priests, or SNAP, was critical of that decision.

"The minute Reno's bishop knew of the lawsuit, he should have publicly disclosed it, suspended Cronin and begged anyone with information to step forward," Clohessy said. "It's proof yet again that bishops are concealing child sex-abuse allegations.

"From our view, this is a continued and disturbing and deliberate cover-up. If the media had not called, I seriously doubt that the Reno Catholics would know about it."

The Diocese of Kansas City-St. Joseph, released a statement saying that it could not comment on the complaint but it responds to all allegations of sexual misconduct by contacting law enforcement when appropriate and having a group of lay people respond and make recommendations to the bishop.Rebecca Summers, spokeswoman for the Kansas City diocese, declined to say whether it had received any allegations against Cronin while he was there.

The diocese statement did say that it was in the process of permanently removing Tulipana, the other priest named in the suit, from the priesthood.

The woman who filed the suit, now 52 and living in Iowa, did not "recover the memory" of the alleged abuse until 2009, said her Kansas City lawyer, Rebecca Randles. She was 17 and a member of the Sacred Heart Parish in Hamilton, Mo., when it began, the suit said.

During confession, Cronin kissed her and placed his hands under her shirt, the suit said. Next, the woman was told to kneel in front of him in the confessional and perform oral sex, the suit said.

One night, Cronin guided the girl into a room with Tulipana, telling her they were going to pray, the suit said. But after she bowed her head, the priests, who smelled of alcohol, began molesting her and forced her to have intercourse, the suit said.

The sexual acts continued until Cronin left the parish, the suit said.

The lawsuit said that the diocese "aided and abetted" Cronin and Tulipana "by moving the priests from church to church following reports of his sexual abuse of minors," by forcing the victims to be silent by representing that the priests were in good standing.

According to Randles, Cronin's movements in Missouri suggest that the diocese knew of his alleged inappropriate behavior and shuffled him around to keep it secret.

The Catholic directory shows that he was at the Sacred Heart parish, where the girl was allegedly abused, until 1986, but he was moved in 1987 to Our Lady of Sorrows in Kansas City, Mo., where he was listed as "in residence," Randles said.

"Whenever we see that, it raises red flags," she said. "There has been a pattern in the Catholic church of moving priests when abuse occurs, taking them from pastoral ministry to residency.

"Sometimes, it's innocent, but it always tells us to investigate further."

Cronin then began working as a chaplain for six different medical centers, she said, and was in residency again in Missouri between 1994 and 1997. The directory also says Cronin was "on special assignment" in Missouri in 1996 and "on duty outside the diocese" in 1997, but it does not say where.

In 1998 he moved to Reno, and from 2000 to 2004, he was pastor at St. Robert Bellarmine in Fernley, Randles said. Both the directory and Cunningham said Cronin retired in 2005 or 2006 and went on to work as a fill-in priest at various Reno diocese parishes when needed.

Cunningham laughed when asked if he thought Cronin's movements were a "red flag," adding that chaplains are certified counselors and serve a special purpose. Cronin was certified with the state of Missouri for that work, he said, and was brought to Reno to work at Washoe Medical Center.

More recently, Cronin took over as parish administrator in Virginia City, where he oversees the church, pays bills and celebrates Mass on weekends as well as conducts weddings and funerals, Cunningham said.

Another priest will fill in for Cronin this weekend, Cunningham said, but no priest has been named to cover for Cronin until the investigation is complete.

"We are sorry to hear an allegation has been made, and we pray for the victim and for Father Tom," Cunningham said. "But an allegation has been made, and we have a responsibility to follow up on that. We will let what needs to be done be done."

Contact: mbellisle@rgj.com

CLERGY ABUSE RESOURCES
HOW TO GET HELP

Confidential diocese hot line: 775-329-6009 or (toll-free) 866-329-6009

Diocese of Reno victim's advocates can be reached at: 775-826-6555

ON THE WEB

Catholic Diocese of Reno: www.dioceseofreno.org

U.S. Conference of Catholic Bishops: www.usccb.org

Database of priests accused of sexual abuse: www.bishop-accountability.org

Survivors Network of Those Abused by Priests, or SNAP: www.snapnetwork.org

Allegations of abuse

2006: The Rev. Honesto Augustine, pastor of St. Therese the Little Flower Church, was accused of sexual misconduct with a minor. The Reno Police Department investigated and cleared him of any misconduct. Augustine was on voluntary leave of absence while the investigation was conducted, and returned to his post once cleared.

2005: Two Reno women filed a lawsuit claiming they were repeatedly molested by Eugene Braun, former pastor at Our Lady of Snows Church, while at a drive-in in the mid-1960s. Braun, who left the church about 30 years ago, denied the allegation.

2005: A Reno man filed a lawsuit against the Catholic Diocese of Reno claiming the Rev. Harold Vieages, who died in 2004, molested him when he was 12.

2004: The Diocese of Reno paid $50,000 to settle a lawsuit filed by a Reno woman who said she was molested and raped by Father David Brusky, who served at two Reno churches, in the 1970s.

2003: The Rev. Robert Buchanan, retired from serving as priest at Our Lady of Snows, was accused in a lawsuit of inappropriately touching a 14-year-old student in 1972 while he was a counselor in San Diego. He denied the allegation.

2002: Monsignor Robert Bowling, former pastor at St. Therese the Little Flower, was named in 11 lawsuits filed against the Roman Catholic Archdiocese of Louisville, Ky., claiming he molested girls in the 1960s. One suit involved a Reno woman who said Bowling was sexually inappropriate with her while she was an adult. The lawsuits involved 34 priests and church workers, and the diocese settled for $25.7 million. Bowling died in 2003.

Catholic Diocese of Reno policy on sexual misconduct

The Diocese of Reno's protocol for dealing with allegations of sexual misconduct by priests was adopted from the 2002 charter passed by all U.S. bishops, said Brother Matthew Cunningham, spokesman for the diocese. Under the plan, when an allegation is made, law enforcement is contacted if appropriate and the priest is placed on leave while an investigation by a review board of lay people is conducted. The board then makes a recommendation to the bishop, who then decides how the case should be handled.