Despite Speculation, Dolan Is Not Named a Cardinal

By Paul Vitello
New York Times
October 21, 2010

http://www.nytimes.com/2010/10/21/nyregion/21dolan.html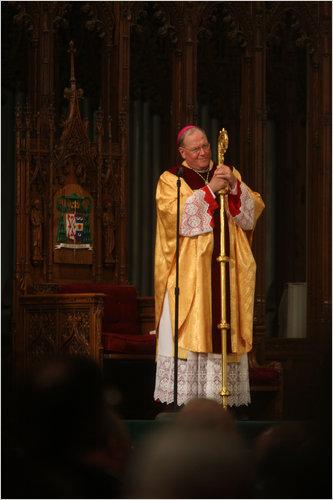 Archbishop Timothy J. Dolan is not among the 24 new cardinals to be installed on Nov. 20, but experts say his time will come.



Italian newspapers were among the first — back in March — to float the rumor that New York's charismatic new archbishop, Timothy M. Dolan, was sure to be made a cardinal at the next big meeting of Roman Catholic prelates in Rome. The rumor sustained a robust life on its own, fed by Catholic news media and the eternal curiosity of many American Catholics about the nebulous world of Vatican power.

Then on Wednesday, Pope Benedict XVI named 24 new cardinals to be installed on Nov. 20. The list included two Americans, but not Archbishop Dolan. Several news reports described the archbishop as having been passed over.

But some experts say there was never a serious likelihood that this was Archbishop Dolan's turn to "get the red hat," as cognoscenti call the broad-brimmed hat that cardinals wear as a symbol of their rank at the top of the hierarchy, just below the pope. The reason: electoral politics, Vatican-style.

The Archdiocese of New York already has one cardinal, the retired Archbishop Edward M. Egan, 78, who, according to Vatican rules, will continue to have a vote in any future election of a pope until he turns 80, in April 2012.

To give New York a second cardinal, and two votes in such a conclave, might be seen as giving it undue influence, scholars said.

"It's simple math; it's not a snub," said Christopher M. Bellitto, a historian of the Catholic Church and an associate professor of history at Kean University in Union, N.J. "It would be highly unusual to have two cardinals from the same diocese."

Archbishop Dolan, appointed in April 2009, will probably not be named a cardinal until Cardinal Egan turns 80 and surrenders his place among the 120 cardinals who serve as papal electors, church experts said. "No doubt in my mind Dolan will get it then," said Msgr. Thomas J. Shelley, a historian of the New York Archdiocese and a professor emeritus at Fordham University.

Archbishop Dolan, 60, is the first New York archbishop in more than a century to succeed a predecessor who retired. Since the late 19th century, nearly all the archbishops of New York have been named cardinals, including Cardinal Egan's immediate predecessors, John J. O'Connor, Terence J. Cooke and Francis J. Spellman, who all died in office.

Beyond the role that cardinals assume in selecting popes, there are few discernible differences in the job descriptions of archbishops and cardinals. If they are assigned to administer a diocese, their duties are identical, though cardinals tend to be called away more frequently on Vatican business, said Joseph Zwilling, spokesman for the Archdiocese of New York.

Archbishop Dolan, with his hearty Midwestern amiability and an unabashed readiness to call out examples of what he considers anti-Catholic expression in the public realm, has emerged quickly among American prelates as a sort of most-likely-to-succeed figure. Where that success will come — as the voice of the Catholic Church in the United States, or as a power inside the Vatican — has also been a topic of speculation.

In articles last spring, the Italian newspapers La Stampa and Il Giornale described Archbishop Dolan as a rising conservative leader on the American scene. This summer, he was named by the Vatican to a prominent role in revitalizing the church in Ireland, which has been devastated by a sexual abuse scandal.

The archbishop spends a good deal of his time traveling in the United States, speaking before Catholic groups and business organizations. If he becomes a cardinal, much of that travel time will probably be spent going to Rome, where cardinals are assigned to duties on various congregations, or committees, of the college of cardinals — panels for naming bishops, setting policies and advising the pope.

The title of cardinal carries many intangible obligations, as well as intangible benefits, Monsignor Shelley said. "It's above all a status thing," he said. "There is nothing more the church can do for you, except make you the pope."

Aside from the hat, the tangible benefits are apparently few. "There's no pay raise, I can tell you that," said Msgr. Kieran Harrington, spokesman for the neighboring Diocese of Brooklyn. "In most cases, bishops and cardinals are paid what a priest is paid."