10m Lien Approved in Sex Case; Judge Allows Action against Priest's Assets

By Quannah Leonard
Waterbury Republican-American
October 22, 2010

http://www.rep-am.com/articles/2010/10/22/news/local/515779.txt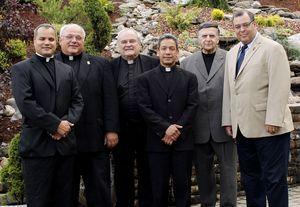 Second from the left: the Rev. Stephen Bzdyra. Republican-American archive



SEYMOUR — A former Supreme Court Justice has ruled for a $10 million lien on assets of a Roman Catholic priest accused of sexually abusing an altar boy during the 1980s.

After a hearing in New Haven Superior Court last month, former Supreme Court Justice Robert I. Berdon stated in a memorandum of decision Tuesday that there was more than adequate evidence to support William Dotson's claims of sexual abuse against the Rev. Stephen Bzdyra. Bzdyra has been suspended from his role as pastor of St. Augustine Church, 35 Washington Ave.

"The court finds that the testimony of the plaintiff was credible and overwhelming," Berdon said in the decision.

The memorandum also stated that the court found that the abuse included rape and oral sex, and it occurred for several years.