Ex-priest Jailed for Abusing Boys

Press Association
October 22, 2010

http://www.google.com/hostednews/ukpress/article/ALeqM5i7YjWmvfVOna7RNO9av2oYmDO6gQ?docId=N0040511287748078327A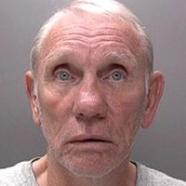 Former priest James Robinson has been jailed for 21 years



A paedophile former priest who fled to the United States in 1985 has been given a 21-year jail sentence for a campaign of sexual abuse against young boys which began in the 1950s.

A jury at Birmingham Crown Court deliberated for around six hours before unanimously convicting 73-year-old James Robinson, who was extradited from California last year to face trial.

The former Roman Catholic priest, who worked in the Black Country, Staffordshire, Birmingham and Coventry after being ordained in 1971, simply stared at the jury foreman as he was found guilty of 21 sexual offences.

Robinson, who was brought up in Brownhills, near Walsall, had denied all the offences, which were committed between 1959 and 1983.

The court heard that Robinson was paid up to ?800 a month by the Archdiocese of Birmingham until December 2001, despite officials being aware of the allegations against him.

Robinson claimed in court that he had been unable to afford to return to Britain, although it was established that in February 2000 he was sent a cheque for ?8,400 by the archdiocese. Describing the Catholic Church's role in Robinson's case as highly questionable, Judge Thomas said: "It is not for me to judge.

"Others may take the view that a full investigation and full disclosure of the results of that investigation is due to the members of that church and (Robinson's victims)."

Robinson's trial heard that he abused his victims, who are now in their 40s, 50s and 60s, after turning his back on a professional boxing career in his early 20s to train for the priesthood.

Jurors were told that the paedophile used his status as a priest to gain "unfettered and unlimited" access to boys, giving them gifts and taking them on trips in his sports car.

Unusually, Robinson did not face charges relating to two of his six victims because they contacted the police after he was extradited. Although extradition law prevented Robinson from being charged with abusing the two victims, they were allowed to give evidence in support of the other four.