How Many More Victims of Paedophile Priest?

This is Staffordshire
October 22, 2010

http://www.thisisstaffordshire.co.uk/news/victims-paedophile-priest/article-2792064-detail/article.html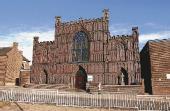 Holy Trinity Catholic Church, in London Road, Newcastle.



POLICE believe a paedophile priest has sexually abused many more people who have not yet come forward.

James Robinson, who was sentenced to 21 years in prison yesterday, sexually abused young boys in the West Midlands for 25 years between 1959 and 1983.

And it is feared the 73-year-old may have targeted children while he served as parish priest at Holy Trinity Catholic Church, London Road, Newcastle, between 1974 and 1979.

It is not known whether any of the nine victims who have already come forward were targeted in Newcastle.

But detectives are now urging Robinson's silent victims to come forward.


Detective Sergeant Harry May said: "As we investigated, we found nine victims. Six were mentioned in court and, for personal reasons, three weren't able to come to court.

"I have no doubt there are more, not only in this country but in America.

"I would like to say how brave these men have been, giving their testimonies in court.

"We couldn't have done it without them."

Yesterday, a jury at Birmingham Crown Court unanimously convicted Robinson, who was extradited from California last year to face trial.

The former priest, who worked in the Black Country, Staffordshire, Birmingham and Coventry after being ordained in 1971, simply stared at the jury foreman as he was found guilty of 21 sexual offences.

Robinson, brought up in Brownhills, near Walsall, had denied all of the charges.

Robinson's trial heard he abused his victims after turning his back on a professional boxing career in his early 20s to train for the priesthood.

The former colliery blacksmith moved from parish to parish sexually abusing children, including two altar boys.

Jurors were told he used his status as a priest to gain "unfettered and unlimited" access to boys, giving them gifts and taking them on trips in his sports car.

Unusually, Robinson did not face charges relating to two of his six victims as they contacted police after he was extradited. But the two were still allowed to give evidence in support of the other four victims.

Passing sentence, Judge Patrick Thomas QC described the defendant as devious and manipulative.

He told Robinson: "The offences you committed were unimaginably wicked and caused immense and long-lasting damage, we can only hope not permanent, to the six victims.

"You used, you abused a position of total trust within the communities that you moved to and from."

Detective Chief Inspector Steve Bimson, who headed the Major Investigation Team, spoke of the difficulties of bringing Robinson to justice.

He said: "Historic abuse cases are always difficult. We rely on witness testimony, which in many cases is many years old and clearly we have problems with fading memories.

"In this investigation, the first complaint was made in 1985."

"As the investigation started, Robinson moved to the States and legalities, at that time, stopped us from bringing him back. Over the following years there were many letters from the church to Robinson, asking him to come back, but clearly Robinson didn't want to return to the UK."

Mr Bimson added: "We know there were other victims who didn't want to be part of the process. I'm sure as a result of the publicity of what we are doing now there will be others."