Files Reveal How Church Shielded Sex Abusers

By Mary Papenfuss
The Newser
October 25, 2010

http://www.newser.com/story/103716/files-reveal-how-church-shielded-sex-abusers.html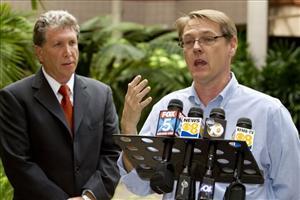 SNAP National Director David Clohessy, right, and attorney Irwin Zalkin discuss just released church records at a press conference in San Diego yesterday.



(Newser) – The church helped a California priest flee the country after his arrest in a child sexual abuse case, according to a cache of shocking documents kept secret for decades. Church treatment of Rev. Luis Eugene de Francisco was part of a pattern of behavior by some officials who knew of complaints against priests, yet shuffled them to different parishes or overseas, where they continued to work, the records reveal. "These documents demonstrate decades of concerted action that has allowed this community's children to be victimized," said attorney Anthony DeMarco, who's representing 144 southern California abuse victim and won a court ruling late last week ordering that the personnel files be released. The 10,000 pages regarding 48 priests are the biggest trove of church documents concerning clergy sex abuse ever exposed.

At least one of the priests named in the documents is still working, in Mexico, and is "ministering to children," but insists he's doing nothing inappropriate, reports AP. In de Francisco's case, the San Diego archdiocese convinced authorities to drop charges against him if he was sent to work in his native Colombia. In another case, Rev. Anthony Rodrigue was repeatedly rotated to various parishes for years despite complaints of child abuse. He eventually admitted he had abused several children each year over two decades working in parishes. "He was probably one of the most prolific abusers in this diocese. They knew about this guy from his days in the seminary, but they kept him in ministry," said attorney Irwin Zalkin.