Report Recommends Closing Two Catholic Churches in Rochester

By Jeffrey Blackwell
Democrat and Chronicle
October 26, 2010

http://www.democratandchronicle.com/article/20101026/NEWS01/101026026/1002/NEWS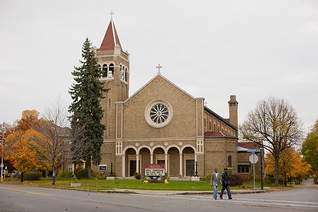 St. Andrews Church on Portland Avenue in Rochester has been recommended for closure. (WILL YURMAN staff photographer)



The Roman Catholic Diocese of Rochester has received a recommendation to consolidate five northeast city churches into three sites.

Under the plan St. Andrews Church and Our Lady of Perpetual Help would be closed with parishioners moved to the three remaining area churches St. Michael, Our Lady of the Americas and Church of the Annunciation.

The recommendation comes from a study by a group of northeast parish leaders. The group was to look at those to maintain ministries and at the some time cut costs. The proposal will be presented to the diocese council of priests by Bishop Matthew Clark in November.

A time table on a final decision has not been set.