Ontario Priest Accused of Molesting 12-year-old Boy

KTLA
October 26, 2010

http://www.ktla.com/news/landing/ktla-ontario-priest-arrested,0,2893276.story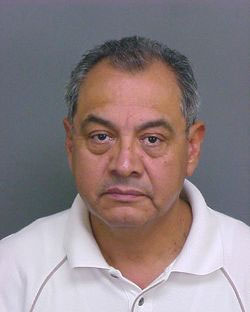 Jose Alejandro Castillo, 57 (Ontario Police Dept. / October 26, 2010)



ONTARIO -- A Roman Catholic priest pleaded not guilty Tuesday to repeatedly molesting a 12-year-old boy.

Jose Alejandro Castillo, 57, the pastor of Our Lady of Guadalupe Church in Ontario -- known as "Father Alex" -- was arrested Monday at his home.

Prosecutors say Castillo molested a 12-year-old boy two years ago, and Ontario police say they suspect he molested at least two other teens.

Castillo entered pleas Tuesday to eight counts of lewd acts against a child, according to the San Bernardino County district attorney's office.

His bail was raised to $7 million from $1 million and he remains behind bars.

Castillo was removed from active ministry in June after he was accused of molesting two adolescent boys by relatives of the victims. The Diocese of San Bernardino took it to police, and the allegations were made public three months later in a letter read during Mass at the four churches where he had served.

Police determined there were three other victims -- a 16-year-old boy at Our Lady of Guadalupe and two adults at other parishes -- but declined to file charges because the statute of limitations for the crimes had expired.

Detectives also are investigating another alleged incident between Castillo and a 14-year-old boy while the priest was serving at Our Lady of Guadalupe Church.

Investigators suspect there may be other victims and urge anyone with more information to contact Ontario Police Det. Mark Guski at (909) 395-2726.