Sex Abuse Victims Want Public to Read San Diego Diocese Files

By Amita Sharma
KPBS
October 26, 2010

http://www.kpbs.org/news/2010/oct/26/sex-abuse-victims-want-public-read-san-diego-dioce/

[documents]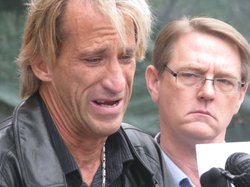 Above: Jim Witham, 52, breaks down during a news conference while recalling sexual abuse he allegedly suffered at the hands of former San Diego priest Gustavo Benson, October 25, 2010 in San Diego.



Sex abuse victims are urging the public to carefully read newly released records detailing molestation cases dating back decades in local Catholic churches. The victims say the records contain information that could help parents protect their kids.

The records are from the personnel files of 48 priests who once served in the Roman Catholic Diocese of San Diego. These priests were either convicted of sexual abuse or were credibly accused.

David Clohessy, a member of Survivors Network of Those Abused by Priests, says he believes some of the priests still live in the region.

"Imagine a single mom, four kids in an apartment complex and the man across the hall says I'm a retired priest," Clohessy said. "Our hope is that she will look at these documents and say no, no he's not a retired priest, he's s suspended priest, he's a defrocked priest. He's a convicted priest."

Abuse victim Jim Witham says he wants people to know the toll the molestations have taken on lives.

"I have been battling this for a long time," Witham said tearfully. "I've been off and on the streets for over 20 years. I was hooked on meth, alcohol. My parents asked me for a long time, `What's going on with you Jim?'" I hid it from my parents. I hid it from the world."

Victims want the church to release two thousand remaining pages of records but the diocese says it has complied with a 2007 legal settlement.