Witnesses Wanted for Former Catholic Priest Charles Barnett

Whyalla News
October 27, 2010

http://www.whyallanewsonline.com.au/news/local/news/general/witnesses-wanted-for-former-catholic-priest-charles-barnett/1981737.aspx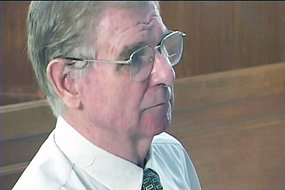 IN JAIL : Former priest Charles Barnett was jailed in August for sexual offences. Witnesses are being sought from people who knew him during his term in Whyalla.



Lawyers acting on behalf of victims of former Catholic priest, Charles Barnett, are looking for witnesses in Whyalla to pursue further action.

He was sentenced to six years and six months in jail with a non parole period of four years after he pleaded guilty to sexually assaulting four children.

The charges related to alleged offences at Crystal Brook and Port Pirie between 1977 and 1985.

He pleaded not guilty to other charges of unlawful sexual intercourse and indecent assault at Port Pirie, Crystal Brook, Whyalla and Blackfriars.

Porter Lawyers is looking for anyone who knew Barnett during the 1970s and 1980s when he was serving in South Australia.

The company is acting for a number of child sexual assault victims abused by Barnett while he was a priest in different schools and parishes at that time.

In the late 1970s, Barnett was listed as an assistant priest in a parish at Whyalla.

He was still listed at Whyalla (still as an assistant) in the directories for 1981 and 1983.

During the period of his Whyalla listings, Barnett was not necessarily confined to that town.

Porters lawyer Jason Parkinson said he would be making a trip to Adelaide and Whyalla next month and hoped to meet some people who may have known him.

He said it was important that those who were his alleged victims spoke up.

"The criminal justice system has punished Barnett and it is time for the victims to be heard," Mr Parkinson said.

"He has been convicted for the charges he pleaded guilty and we will take further necessary action if we get calls from other alleged victims."