Judge Rules in Priest's Favor

By David Yonke
Toledo Blade
October 27, 2010

http://www.toledoblade.com/apps/pbcs.dll/article?AID=/20101027/NEWS02/101029642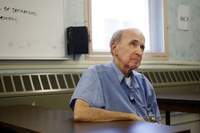 Gerald Robinson is serving a 15-years-to-life sentence at Hocking Correctional Facility in southern Ohio.



Defense will be given misfiled 1980 police reports

A judge has ordered Lucas County prosecutors to turn over to Toledo priest Gerald Robinson a batch of 1980 police reports, discovered late last year, from the investigation of a nun's murder for which Robinson was convicted in 2006.

The 136 documents were misfiled while being transferred from paper to microfiche about 15 years ago, prosecutors said.

"We're delighted with the ruling and look forward to reviewing the documents," Rick Kerger, one of Robinson's defense attorneys, said yesterday.

Dean Mandros, chief of the criminal division of the prosecutor's office, said the missing documents were discovered during a search that was ordered by prosecutors after Robinson's attorneys filed an amended petition for postconviction relief containing a 1980 police report that prosecutors had never seen.

The missing reports were in a section of microfiche — a film used before computers to store large numbers of documents — separated from the bulk of the Robinson case by one or two other police investigations, Mr. Mandros said Tuesday.

The police reports did not mention Robinson by name and did not contain any evidence or information that would help the priest in his efforts to be set free, according to Mr. Mandros. He said the state believed it was not required to hand over the newly discovered documents, but gave copies to Judge Gene Zmuda of Lucas County Common Pleas Court to let him make the determination.

In the ruling issued late Monday, Judge Zmuda said revisions in state law that took effect July 1 "have expanded the state's duty to disclose materials and information beyond what was required previously."

The judge, who did not preside at Robinson's 2006 trial, said in the ruling that he reviewed the 136 new documents submitted as well as the 4,000-page trial transcript, and that "sound discretion in this case warrants the production of the sealed documents to the defendant." He added that "whether they have relevance to any of defendant's asserted claims for postconviction relief remains to be seen."

Judge Zmuda, who gave the state 14 days to hand over the police reports to Robinson's attorneys, is sorting through assertions in the priest's petition before deciding whether to grant an evidentiary hearing in the case.

Robinson, 72, was arrested in April, 2004, and convicted in Lucas County Common Pleas Court on May 11, 2006, for the 1980 murder of Sister Margaret Ann Pahl. The 71-year-old nun was choked nearly to death and stabbed 31 times in the sacristy of the former Mercy Hospital, where Robinson was assigned as a chaplain, on April 5, 1980 — Holy Saturday.

His conviction was upheld by Ohio's 6th District Court of Appeals and the state Supreme Court; the U.S. Supreme Court declined to hear the case.

Robinson, now serving a 15-years-to-life sentence at Hocking Correctional Facility in southern Ohio, filed an amended petition for postconviction relief in Common Pleas Court contending his constitutional rights were violated in the 2006 trial.

Although Robinson has been barred from ministry, he remains a priest in the Toledo Catholic Diocese.

Contact David Yonke at: dyonke@theblade.com or 419-724-6154.