Abuse Victims Want Profits from Saint Andre Mass

CBC News
October 28, 2010

http://www.cbc.ca/canada/montreal/story/2010/10/27/abuse-victims-want-to-share-high-mass-profits.html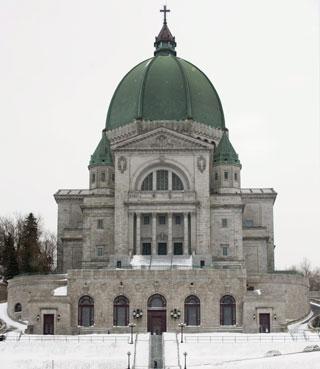 Saint-Joseph Oratory, the spiritual home of the recently canonized Montreal priest Saint Brother André, was founded by the Congregation of the Holy Cross, which has been accused of protecting sexually abusive priests at a nearby college. (Canadian Press)



Some victims of abuse perpetrated by pedophile priests are asking for a cut of the profits from an upcoming high mass celebrating the canonization of the Montreal Roman Catholic priest known as Brother André.

As many as 50,000 people are expected to attend the Saturday mass at Montreal's Olympic Stadium, including Prime Minister Stephen Harper and Quebec Premier Jean Charest.

With tickets costing $5, the Catholic Church stands to collect $250,000, said two groups representing victims of sexual abuse by priests.

A celebration of André Bessette's canonization is a perfect occasion for the church to reach out to abuse victims, recognize them officially and offer compensation, the groups said.

One group represents people who attended Collège Notre-Dame in Montreal. The school was once run by the Congregation of the Holy Cross, the religious order that founded Montreal's Saint-Joseph Oratory, Bessette's spiritual home.

When he was a lay brother with the congregation at the turn of the 20th century, Bessette, now known as Saint Brother André, worked as a porter at the college.

"They've been celebrating Frère André for the last two weeks, and that's great. He did great things," said Robert Cornellier, a member of the Committee of Pedophile Victims at Collège Notre-Dame. "But we have to remind people that along this, there's a dark side of the story."

Allegations of abuse at Notre-Dame initially surfaced a couple of years ago, when some victims spoke out about their experiences. Earlier this year, CBC's French-language service reported the Congregation of the Holy Cross was aware of allegations of sexual abuse by priests who taught at the school.

Radio-Canada presented evidence backing claims that the college kept some of the accused teachers on staff and decided not to report the incidents to police. Montreal police recently issued a call for anyone who was a victim of sexual abuse to contact authorities, even if the incidents happened 40 years ago.

Groups ask Cardinal for help

This week, Cornellier's group wrote to Cardinal Jean-Claude Turcotte, the archbishop of Montreal, and Bishop Pierre Morisette, president of the Canadian Conference of Catholic Bishops, asking them to divest a portion of profits from Saturday's mass to people abused by Quebec priests.

Turcotte will preside over the high mass at Olympic Stadium Saturday.

The victims' groups say they have no intention of protesting at the mass because it would be disrespectful, Cornellier said.

"For people who still have faith in the church, it's still important, so we decided it wasn't appropriate to organize a protest at the stadium," he said.

Cornellier says his brother René, who died 15 years ago, was sexually abused when he was a student at Collège Notre-Dame.

"Any apology is too little too late," he said. "But we hope the congregation will collaborate with police. We want to bring the people who committed these crimes to justice."

The congregation is prepared to work with police on any case, said Mylène Forget, a spokeswoman for the order.

But money collected at Saturday's mass will benefit Saint-Joseph's Oratory.