Quebecer Can Sue Church for Abuse

CBC News
October 29, 2010

http://www.cbc.ca/canada/montreal/story/2010/10/29/court-priest-sex.html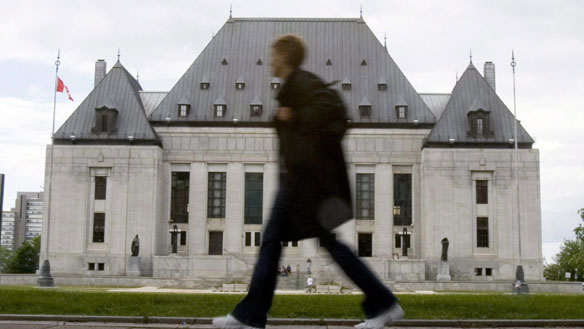 The Supreme Court has ruled that a Quebec Superior Court must reassess a woman's lawsuit against a former priest and the Catholic Church regarding abuse she suffered as a child. The Supreme Court has ruled that a Quebec Superior Court must reassess a woman's lawsuit against a former priest and the Catholic Church regarding abuse she suffered as a child. (CBC)



Canada's highest court said in a ruling Friday that an appeal should be allowed in the case of Shirley Christensen, and that the Quebec Superior Court must reassess the evidence in her lawsuit against her former priest and the Catholic Church.

The case involves sex abuse of Christensen of Quebec City by a priest that occurred more than 25 years before a civil lawsuit was filed in 2007. The Quebec Superior Court had dismissed the action on the grounds that it was filed after the statute of limitations had expired.

The SCOC said Christensen did not get an opportunity to explain her situation before her case was dismissed, and ordered the Quebec court system to review.

Christensen's lawyer, Sebastien Grammond, told CBC News the court ruling means the civil lawsuit against the priest and the Catholic Church can proceed.

"She can sue them and then there will be a trial," he said.

Christensen, 36, told CBC she is very happy with the decision. "It's a great victory for me, and it's a great victory for other victims. When the Supreme Court tells me that I'm right, it's a great, great victory."

Christensen was only six years old when she was molested in the late 1970s by a Quebec City priest, Rev. Paul-Henri Lachance of the Sacre-Coeur Parish.

The sex abuse continued for two years, and Christensen estimates she was raped 40 times.

When Christensen was eight, she told her parents, but when they complained to the diocese, they were told not to go to police. The parents agreed and Lachance was moved to a different parish.

Christensen says it took until her 30s to fully realize the magnitude of what the priest did to her and to recover the assault memories.

She reported them in 2006, and they resulted in Lachance's arrest. He pleaded guilty to sexual assault in 2009, and was sentenced to 18 months in jail.

Christensen tried twice to sue, claiming $250,000 in damages. Both times, the Quebec courts said she had waited too long.

The case will now return to Quebec Court for a full hearing by a judge, who will weigh the arguments over whether Christensen waited too long — unless the church decides to settle out of court with her.

Christensen hopes the church will consider settling out of court, so that she doesn't have to testify.

Shortcoming in Quebec civil code

The Catholic Church has for too long enjoyed a legal advantage under Quebec's civil code, which imposes a three-year statute of limitations, or prescription, on lawsuits, victims groups said Friday.

Prescription allows a court to dismiss a lawsuit before it ever goes to trial, if it is more than three years old.

"This case highlights the need for a change in the law in Quebec," said lawyer Sebastien Grammond. "If the law in Quebec said the same thing [elsewhere in Canada] where there's no limitations for this kind of claim, then we wouldn't have this debate."

Victims of sexual abuse by priests say only a change to Quebec's civil code will level the playing field.

"Hopefully, Quebec's justice minister will listen to our plea to modify the civil code, to make it easier for victims to go before the courts," said Carlo Terini, who speaks for the Association of Victims of Priests.

"The judges can't toss aside their cases without looking at them."

Terini said it would be good of the church to stop fighting Christensen, and pay her the $250,000 compensation she's seeking.

"I'm not saying there's a decision made about it," said Justice MinisterJean-Marc Fournier, "but we are studying that thing, because we are concerned about it."

Victims seek slice of St. Andre donations

The Supreme Court ruling comes one day before a high mass ceremony celebrating the canonization of St. Andre in Montreal.

Brother Andre was born Alfred Bessette in Saint-Gregoire d'Iberville, Que., in 1845 and became the Roman Catholic Church's first Canadian-born male saint on Oct. 17.

As many as 50,000 people are expected to attend the mass at Montreal's Olympic Stadium, including Prime Minister Stephen Harper and Quebec Premier Jean Charest.

Some victims of abuse perpetrated by pedophile priests are asking for a cut of the profits from the high mass.

With tickets costing $5, the Catholic Church stands to collect $250,000, said the Association of Victims of Priests and the Committee of Pedophile Victims at College Notre-Dame, the two groups representing victims of sexual abuse by priests.

The celebration of Bessette's canonization is a perfect occasion for the church to reach out to abuse victims, recognize them officially and offer compensation, the groups said.

But money collected at Saturday's mass will benefit St. Joseph's Oratory, the shrine St. Andre built from the donations he received from people who said he had cured them.

Donations continued to pour in long after his death in 1937.