I Was Abused by a Priest, Cairns Man Claims

By Gavin King
Cairns Post
October 29, 2010

http://www.cairns.com.au/article/2010/10/30/132931_local-news.html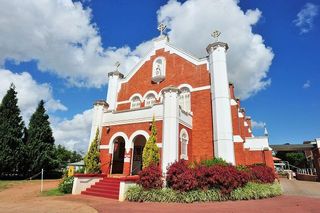 Claims: A Cairns man claims he was abused by a Catholic priest at St Joseph's church at Atherton.



A FORMER altar boy has launched an explosive lawsuit against the Catholic Church alleging years of abuse by a prominent priest and a subsequent failure to take any official action by fellow priests, nuns and one of Queensland's highest-ranking bishops.

A special investigation by The Weekend Post has uncovered a 20-year web of alleged sexual abuse and a repeated failure by high-ranking church officials to report the matters to police.

The Church also failed to remove the priest at the centre of the allegations from contact with children when they were alerted to the allegations of abuse.

In a sworn affidavit filed with the Supreme Court, a Cairns man claims he was regularly abused while he was a student and altar boy at St Joseph's School and Church at Atherton by Father Joseph Sultana between March 1979 and November 1982.

The Weekend Post can also reveal that another man who said he was abused by Father Sultana at the same school and church in the early 1980s took his own life at his northern beaches home in 1998.

Father Sultana left Atherton and moved to the Ravenshoe parish - which includes two churches and a primary school - shortly after a fellow priest was told about the abuse.

Father Sultana continued as a serving priest in the Diocese of Cairns for at least another 15 years before relocating to Malta in either 1997 or 1998.

In the book Golden Jubilee of the Diocese of Cairns: 1941-1991, Father Joseph Emmanuel Lewis Sultana is listed as being born in Malta and ordained as a priest in 1962.

The book says Father Sultana came to the Diocese of Cairns after serving as a priest in South America.

Another book titled The Years Between 1953-1985: Catholic Youth Movement details a visit by a youth group to Father Sultana's home at Ravenshoe in the early 1980s.

"On Sunday, 17 March, Atherton Catholic Youth Movement had an outing to Ravenshoe. We visited Father Sultana, our previous branch chaplain before his appointment to Ravenshoe, and then went to Millstream Falls. After a swim it was back to Father Sultana's for dinner," the author wrote.

In a sworn affidavit and statement to police, the Cairns man, now 38, said he and his wife revealed the abuse to Bishop James Foley in a phone call and subsequent meeting at their family home in November last year.

Father Sultana was still active as a priest in the Far North for at least five years while Bishop Foley was head of the Diocese of Cairns.

At the end of their hour-long conversation in November, the man said that Bishop Foley offered him prayers and religious counselling.

In his affidavit, the man said Bishop Foley did not advise him to contact police, but Bishop Foley yesterday told The Weekend Post he did tell the man to report the abuse to police.

Bishop Foley said he urged his lawyers to encourage the man's lawyers to report the matters to police.

In March, the man gave a detailed statement to the Cairns Police Child Protection and Investigation Unit and launched a civil suit seeking compensation against the Roman Catholic Trust Corporation for the Diocese of Cairns and the Corporation of the Sisters of Mercy for the Diocese of Cairns.

Cairns police are investigating the man's allegations and are awaiting information from the Department of Immigration to determine if the case against Father Sultana - who may be deceased - can proceed.

In court documents obtained by The Weekend Post, the man also said he told prominent Far Northern priest Father Patrick McKenna about the abuse while it was still happening in 1981.

But the man says Father McKenna became angry at the then eight-year-old and accused him of lying before ordering him to visit a school nun, where he was caned by a nun several times for lying.

According to the Diocese of Cairns website, Father McKenna is now the presiding priest of three churches in Cairns and the chaplain at Cairns Private Hospital.

He was not implicated in any allegations of abuse.

"I'm not prepared to discuss the matter,'' Father McKenna said yesterday when contacted by The Weekend Post.

"All inquiries should be directed to the Bishop of Cairns."