Victims of Sexual Abuse by Priests Stage Protest March at Vatican

The Guardian
October 31, 2010

http://www.guardian.co.uk/world/2010/oct/31/child-abuse-victims-protest-march-vatican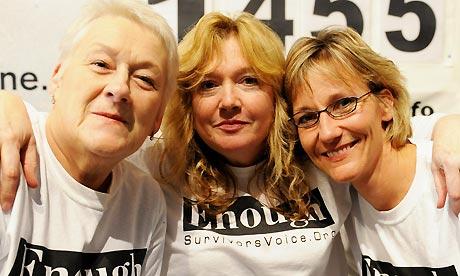 Members of Survivors' Voice, a foundation for victims of abuse by priests



Citizens of 12 countries who suffered sexual abuse by Catholic priests today gathered in Rome for a protest march on the Vatican.

Wearing t-shirts reading: "Enough!" in English, Italian and German, the organisers of the candlelit march demanded that the UN recognise the systematic sexual abuse of children as a crime against humanity.

At a briefing beforehand, victims of abuse stood up to describe how their lives had been destroyed by the abuse they suffered as children, with many recounting years of drug and alcohol addiction, eating disorders and psychological and emotional problems.

"For 50 years I thought I was the only person in the entire world that had been abused by a Catholic priest," Sue Cox, a 63-year-old from Warwickshire, said.

"It's taken 50 years for me to find my voice. But now I've found it, I want to continue to speak on behalf of people who maybe aren't able to speak or have not yet been able to face the fear and the guilt and shame that survivors feel."

Organisers said they expected hundreds of people to attend the march, a grassroots initiative they intend to repeat in a year.

About 50 former students of a Catholic institute for the deaf in Verona, Italy, joined the protest. The Vatican refused to let the marchers gather in St Peter's Square, as is standard practice, but they instead gathered nearby.

The event was organised by two Boston men, Gary Bergeron and Bernie McDaid, who were abused by the same priest while school students.

In 2008, McDaid became the first abuse victim to meet Pope Benedict XVI during the pontiff's trip to the US.