Demonstrators Call on Vatican to Do More to End Child Sexual Abuse by Priests

Voice of America
October 31, 2010

http://www.voanews.com/english/news/Demonstrators-Call-on-Vatican-to-Do-More-to-End-Child-Sexual-Abuse-by-Priests-106419728.html

[with video]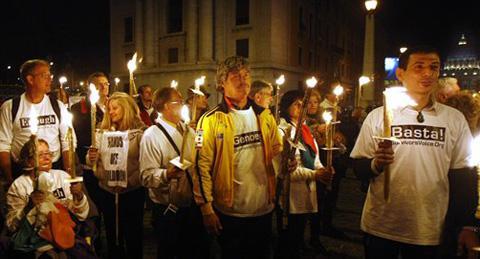 Demonstrators against the Vatican's handling of priest sex abuse cases, hold candles during a protest near St. Peter's square



Victims of child sexual abuse demonstrated near the Vatican on Sunday. They called on the Roman Catholic Church to punish those responsible for covering-up child sex abuse in the Church and to do more to protect children.

Hundreds of survivors of child sex abuse gathered near the Vatican. They were told they would not be allowed to take their message to Saint Peter's Square that child sex abuse will no longer be tolerated. Security was tight.

Survivors carried banners reading "Hands Off Children," "Shame" and "Justice." Wearing T-shirts with the word "Enough" emblazoned on them, demonstrators turned out from a dozen countries and lit candles as they spoke of their experiences.

Margaret Kennedy, who came from Ireland, said "My twin sister was abused, I was abused. We know what its like to have religion and abuse come together in a very shocking way."

The Vatican's chief spokesman, Father Federico Lombardi, came out to speak with the protestors. "I have come to meet the organizers of this meeting, and am happy to meet with them and say why I am here," he said.

But he was forced to leave after being jeered by demonstrators. He later met with one of the protest organizers.

The demonstrators held a minute of silence on what they called "Reformation Day." They called for child sex abuse to be considered a crime against humanity.

Police allowed two demonstrators, including co-founder of Survivors Voice, Gary Bergeron, one of the organizers of the event, to walk to Saint Peter's Square and deliver letters from people who say they were abused by Catholic priests. "This is the first time, the first time that a group of survivors this large has come together and spoken out and people have listened in Italy, in Italy. That's success to me," he said.

After the demonstration, Bergeron accompanied several other sex abuse survivors to speak with Lombardi and tell their stories. They said they asked Father Lombardi to pass along their request to speak with other Vatican officials.