Priest Abuse Victims Protest at Vatican

By Ella Ide
AFP
November 1, 2010

http://www.google.com/hostednews/afp/article/ALeqM5j23r06-TJEQMENkrNjJA1a3o95VQ?docId=CNG.3fda6adee976b3a33a4faade5f6c18cd.901


Parents and victims of priest abuse from around the world hold banners during a demonstration in Rome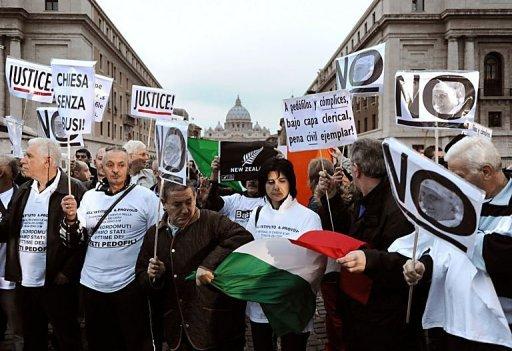 Parents and victims of priest abuse hold banners reading "Shame", "Justice" and "Put pope on trial"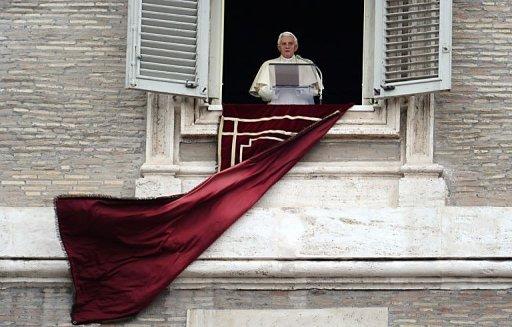 Popo Benedict XVI look towards pilgrims gathered in St Peters' square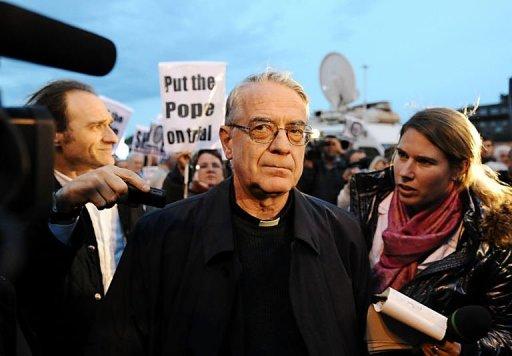 Demonstrators shout slogans to Vatican spokesman the Rev. Federico Lombardi



VATICAN CITY — Victims of sex abuse by priests across the world took their calls for justice to Pope Benedict XVI's door on Sunday, yelling "Shame!" at a Vatican official in an angry protest.

Around 60 protesters -- victims of abuse and their families -- gathered near St. Peter's Basilica with banners and torches and shouted "Shame on you!" at Father Federico Lombardi, the Vatican's spokesman, when he appeared.

Victims from Australia, Belgium, The Netherlands and the United States held up banners saying "The Pope protects paedophile priests," "Church without abuse" and "Pope on trial."

"Enough is enough," said Bernie McDaid, victim and co-founder of Survivor's Voice, the US group behind the protest.

"Somewhere tonight in Africa a missionary is having his way with a child, taking his body for pleasure and robbing his soul, and nothing will be done to stop the perpetrator," he said.

The victims had hoped to lead a candle-lit vigil to the edge of St Peter's Square to leave personal messages for the leader of the Roman Catholic Church.

But the Vatican refused to give permission to enter the square and 25 police officers blocked the torch-bearing protesters from walking up the wide avenue that leads to the Basilica.

In the end only Gary Bergeron, who co-founded the US group with McDaid, and another victim managed to walk up to the Vatican, though they put out their torches before entering the square.

"The continued acceptance of the systemic sexual abuse of children is nothing less than a crime against humanity," said Bergeron.

"This isn't an attack on faith or religion, it's about behaviour and ethics," said Marco Lodo Rizzini, a spokesman for child victims of abuse from Italy's Antonio Provolo Institute for the Deaf, many of whom attended the demonstration.

Sixty-seven deaf and speech-impaired children at the Catholic institute in the city of Verona were allegedly abused by priests and lay staff between the 1950s and 1980s.

"The Pope keeps saying child abuse is a crime, but he needs actually to take some concrete action," said Lodo Rizzini.

Claims of clerical paedophilia have emerged from across Europe and the United States, with the Church accused of not acting quickly or firmly against priests involved and even covering up the problem.

"I hope to find what I lost as a little girl here today, by saying my piece and carrying my candle," said Shelly Winemiller, a 42-year-old mother from Wisconsin who was abused from the age of four to 14 by the family priest.

"The priest was my father's best friend, and the whole community trusted him. When I came out to my family four years ago it nearly tore us apart," she said in tears.

"But the worst part was having to tell Church officials over and over again what happened, reliving the horror each time, and they still won't officially admit I was abused," she added.

Ton Leerschool, a 57-year-old Dutch entrepreneur who was abused by a priest as a child and now runs a foundation in The Netherlands for male victims, said it was emotional to meet others torn apart by the same pain and anger he felt.

"Deep inside me there is a physical memory of what happened, it sickens and torments me and I can't control it... but if we can get the Church to admit the abuse took place and give us justice, that will help us to heal," he said.

"We want action, we want a complete disclosure of all information, to know who is responsible at every level, not just naming the priest who raped me but his boss as well," Leerschool said.

The Church is grappling with its worst crisis in years since the publication in November 2009 of a report revealing serial abuse of children by priests in Ireland and a subsequent cover-up, with similar cases unveiled in countries including Belgium and Germany.

Pope Benedict XVI himself has faced allegations that, as Cardinal Joseph Ratzinger when he headed the Vatican morals watchdog and earlier as the Archbishop of Munich, he failed to take action against predator priests.