Police Block Sex-Abuse Victims at Vatican

Wall Street Journal
November 1, 2010

http://online.wsj.com/article/SB10001424052748703708404575586550983483226.html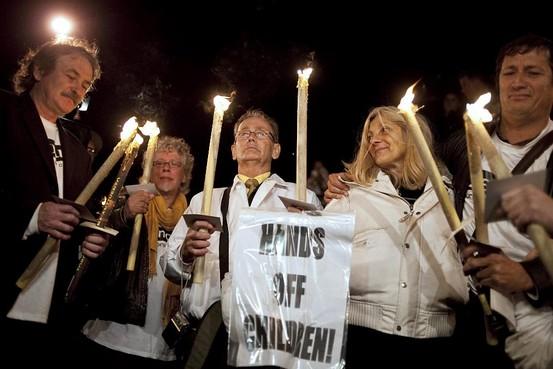 People marched for the victims of abuse by pedophile priests in Rome on Sunday.



ROME—Hundreds of protesters and dozens of people claiming to have been victims of sexual abuse by Roman Catholic priests converged on the Vatican's doorstep Sunday, calling on Pope Benedict XVI to take tougher measures to prevent future abuse.

The group gathered for a candlelight vigil at dusk outside the walls of Vatican City, and then tried to march toward St. Peter's Square , inside Vatican territory. Shouting "Enough" and "Hands off children," the protesters, from the U.S., Australia, the Netherlands, Italy and other countries, carried letters and stones from their native lands that they planned to deliver to the pontiff.

However, police blocked the group from entering a boulevard that leads to Vatican City, a sovereign state, though two protesters were allowed beyond the police cordon to deliver the letters and the stones to the Vatican.

Vatican spokesman Rev. Federico Lombardi drew shouts of "Shame! Shame!" when he approached the group, according to the Associated Press. He was expected to meet with some of the protesters in his office later in the evening, the AP reported. Attempts to reach Father Lombardi were unsuccessful.

"It's time to stand up for our children and the children of tomorrow," said Bernie McDaid of Boston, Mass., a victim of decades-old abuse who organized the protest.

The gathering comes after nearly a year of public criticism over the Vatican's handling of priests accused of sexually abusing children in numerous dioceses around the world. Thousands of abuse allegations have emerged in Ireland, with hundreds more in Belgium, Italy and the pope's native Germany. Pope Benedict has tried to address the criticism by meeting with some victims, toughening Church laws for disciplining abusive priests and accepting the resignations of bishops who covered up the abuse over the decades.

Many victims, however, say the measures aren't enough. Mr. McDaid, who traveled to the Vatican nearly a decade ago when the abuse scandal first exploded in Boston, said the Vatican had dragged its feet for years in addressing the crisis. "If we were standing here eight years ago and we are standing here now for the same reason, something is wrong," said Mr. McDaid, who was among the handful of victims who privately met with the pope during his trip to the U.S. in 2008.