More Priest-abuse Suits, This Time with Chloroform

Houston Press
November 9, 2010

http://blogs.houstonpress.com/hairballs/2010/11/archdiocese_suit.php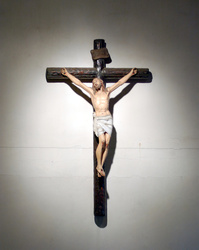 Man claims he was chloroformed and raped as an altar boy



The Catholic Archdiocese of Galveston-Houston is facing more allegations of abuse and fraud related to a Houston priest who died in 2000.

In a lawsuit set to be filed today, Guadalupe Gonzales accuses the late Father Lawrence Peguero of molesting her as a child "in approximately the 1960s." The alleged abuse occurred at Our Lady of St. John Parish.

Archdiocese officials committed fraud because they "knew or should have known that Peguero was a child molester and knew or should have known that Peguero was a danger to children before Peguero molested Plaintiff," according to the suit.

Peguero was the subject of a similar fraud lawsuit filed in June on behalf of five men and women who claim they were abused by Piguero in the 1960s and 1970s. (The plaintiffs, four of whom are family members, no longer live in Houston).

Responding to that suit in July, the Archdiocese issed a statement that

The Archdiocese was not aware of any complaints of alleged abuse by Father Pegeuero until late 2007, when the Archdiocese received a letter from the Plaintiffs' attorney claiming sexual abuse by the priest. Archdiocesan officials met with the individuals making the allegation and their attorney in early 2008 to express a desire to hear the complaint formally and extend an offer to provide counseling and pastoral assistance while the allegation was investigated. However, after this initial meeting, the Archdiocese received no further communication from the Plaintiffs or their attorney until the lawsuit was filed.

All the Peguero plaintiffs are represented by John Sloan, Jr., and J. Ryan Flower, of Longview. Sloan is planning an afternoon press conference.

According to the Houston Chronicle, "Peguero, a Port Arthur native, was ordained in 1947 and then served as asistant pastor at St. Anne Church in Beaumont. He also worked at Beaumont St. Joseph in 1956 before becoming a priest at Our Lady of St. John in Houston in 1957. He retired in 1993 at the age of 72."

It's been a busy few months for the Archdiocese: a few days after the June Peguero case was filed, the Archdiocese was accused of covering up abuse by Father Terry Brinkman, a priest who's still employed by the Archdiocese.

In that case, the plaintiff (filing as a John Doe) accused Brinkman of chloroforming and raping him as a child, in St. Charles Borremeo Church. In separate filings, Brinkman denied the abuse and the Archdiocese denied the cover-up. Both stated that the statute of limitations has expired.

Describing one instance of alleged abuse in an affidavit, the plaintiff -- now in his forties -- swore that

I was in the dressing room, de-robing, when Father Brinkman came up behind me, and grabbed me, and shoved a cloth or a rag drenched in a substance to my face. When I awoke, I was being sodomized....My hands were tied between my legs and my head was pushed up against a corner of the room. Father Brinkman was wearing his priest collar and shirt as he sodomized me. I recall him grunting as he did so.

Upon realizing that I was conscious, Father Brinkman again shoved the rag or cloth to my face, which again knocked me out. When I awoke, I was outside in a church courtyard. My underwear was down, my head and knees burned, and my entire body was sore. I was covered with urine and/or feces as well as blood. I bled from my anus for about one week after this sexual abuse incident.

Hair Balls will keep you updated on all the suits.