Catholic Church Struggles to Deal with Disciplined Priests

By Patricia Montemurri
Detroit Free Press
November 14, 2010

http://www.freep.com/article/20101114/NEWS01/11140519/Catholic-Church-struggles-to-deal-with-disciplined-priests

[with video]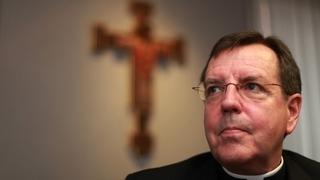 Detroit Archbishop Allen Vigneron said he has met with disciplined priests and listened to their stories. He said the men are not ostracized, but "they did a really awful thing, and part of it is, they bear the consequences of their behavior.



When the Rev. Ronald Williams died this summer, St. Mary of Redford parishioners started an online drive to have the former priest buried in his old parish in Detroit.

Parishoner Marge Staten said church members wanted to remember him in the church he helped restore. "He would just love to look down and know the bells are ringing," she said.

The Archdiocese of Detroit wouldn't allow it. Out of deference to sexual abuse victims, church policy prevents a disciplined cleric from returning to his previous parish. Williams' funeral was held at neighboring St. Scholastica Church.

Nearly a decade after the priest sex abuse scandal ignited in the U.S., the emotional issue continues to split the Catholic Church. This summer, Pope Benedict XVI's visits in Europe drew massive protests, prompting him to say victims are the priority. Detroit Archbishop Allen Vigneron said the church remains committed to helping victims while continuing to deal with disciplined priests.

"I am not out to try to destroy anyone's affection for a priest -- guilty as he might be of this crime," said Vigneron. "That doesn't mean everything was evil in this person's life."

In Detroit, a former parole officer monitors priests removed from ministry, keeping tabs on their activities. Advocates continue to push for victims to have a longer window to sue. For some Catholics, like the hundreds who attended Williams' funeral, their faith is not dimmed in the men who once led them.

Church faces abuse aftermath

In the eight years after he was removed as pastor of St. Mary of Redford Catholic Church in Detroit, the Rev. Ronald Williams was prohibited from working as a priest, identifying himself as a priest or dressing as a priest.

The 58-year-old was permitted to don priestly vestment only once more -- when he was laid to rest in a casket this summer. With his removal from active priesthood -- the only life he'd known since entering the seminary after high school -- Williams toiled in physical, fiscal and emotional limbo.

He worked a low-wage job and lived in a Downriver mobile home park. He was on the verge of filing for bankruptcy. Family members say that his inability to afford good health insurance contributed to his death of a heart attack in July.

"The last two years were hell for my brother," said Williams' sister, Desiree Williams Holley, 57, of Alabama. "He really suffered."

'They bear the consequences'

The Catholic Church still doesn't know what to do with priests like Ronald Williams, those accused of sexually molesting minors.

Although the church enacted a zero-tolerance abuse policy in the U.S. nearly a decade ago -- with credibly accused priests being barred from public ministry -- it has not developed uniform standards for how to support and monitor those disciplined priests.

Since 1950, 66 priests in the Archdiocese of Detroit have been involved in accusations of sexual abuse, according to the archdiocese. Since the sex abuse scandal broke in 2002, some 42 priests, including diocesan and religious order priests who've served in Detroit-area parishes, have been publicly identified for allegedly molesting minors.

Many of the accused priests proclaim their innocence, despite both criminal and church investigations that have found the accusations against them valid -- if not always prosecutable because of statutes of limitations.

Archbishop Allen Vigneron of the Detroit archdiocese said he has met with disciplined priests and listened to their stories.

"Some are much more at peace with the aftermath of what they've done and ... one or another does find it difficult to acknowledge where they've taken their lives," said Vigneron. He said the men are not ostracized, but are welcome at gatherings of priests and are helped financially when the need arises.

But, said Vigneron, "they did a really awful thing, and part of it is, they bear the consequences of their behavior."

Six men who worked as priests with the Archdiocese of Detroit served time in jail or prison for their crimes, but most of the deposed priests have never been convicted by a criminal court.

At least seven men who served in Detroit-area parishes have been laicized by the Vatican -- returned to layperson status and stripped of ties to the church.

Thirteen local priests live in a netherworld of sorts. They are still technically priests, but they are permanently suspended from public ministry. Their whereabouts are monitored by Ina Grant, a onetime parole officer appointed by the archdiocese.

The men live independently in private homes or apartments, supported by pensions they earned from the church or in other jobs. One has gone to school to study cooking. One of the disciplined priests, a lawyer by trade, works for the Shelby Township district court. Williams struggled to keep a job checking in rental cars.

Since 2002, 12 accused diocesan priests have died.

'You miss the ministry'

Jude Ellinghausen once said mass for hundreds of churchgoers at parishes in Detroit, Trenton and Port Huron. Now Ellinghausen, permanently banned from working, dressing or publicly identifying himself as a priest, is allowed to say mass only for himself.

"I haven't too many complaints," said Ellinghausen, 78, who in 2002 was permitted to retire from two Lapeer County parishes after abuse complaints surfaced.

"You miss the ministry," he said. "You miss the people. And you miss the public life. Sometimes, you're glad you don't have the responsibility."

When Ellinghausen was removed, archdiocese officials said there were allegations of him molesting boys in the early years of his ministry. He acknowledged at the time that he regularly took boys out on camping trips and lake excursions.

Ellinghausen declined to speak about the allegations.

Among those who said they were abused by Ellinghausen is John Singelyn Jr., a metal finisher from Eastpointe. Singelyn said Ellinghausen inappropriately touched him over a three-year period between 1976 and 1979, when the priest was associate pastor at St. Jude in Detroit.

"I just pretended like nothing happened, and I never talked about it," said Singelyn, now 43. He said he didn't think his parents would believe him when he was a child, because priests were put on pedestals.

Singelyn said he believes in God but hasn't gone to church in years. He calls Ellinghausen "a dirty, disgusting old man."

"I remember it every day," Singelyn said of the abuse. "I try to look back on my childhood, and my innocence was robbed. It's nothing that any child should go through."

In May 2002, the Archdiocese of Detroit signed an agreement with prosecutors from the six counties it covers -- Wayne, Oakland, Macomb, Monroe, St. Clair and Lapeer -- agreeing to turn over information on allegations of sexual misconduct by priests. This was the result of a public outcry that claimed the archdiocese had cut secret settlements with victims and transferred offending priests to other parishes without notifying law enforcement officials.

Maria Miller, a spokeswoman for Wayne County Prosecutor Kym Worthy, said it is regular practice for the archdiocese to turn over allegations of abuse by a priest or nun.

From 2007 until September 2010, Miller said, the prosecutor's office received 12 complaints from the Detroit archdiocese. Of those, nine involved alleged offenses by priests that were beyond the statute of limitations; two reports contained insufficient details or did not deal with sexual misconduct, and in one case, the suspected priest had died.

Oakland County Prosecutor Jessica Cooper said her office has received four such complaints from the archdiocese since January 2009 and determined that two of them couldn't be pursued because in one case, the priest had died and in another, the alleged abuse happened in 1975, and the statute of limitations had expired. Another complaint was believed to be a hoax, and one was not related to sexual abuse.

In Macomb County, Assistant Prosecutor Jean Cloud said that since late 2007, the archdiocese had forwarded about 10 complaints.

Cloud said the reports involved allegations of abuse that took place from the 1960s to the 1990s, and that the suspects were priests already identified and disciplined by church officials. She said their alleged offenses were beyond the statute of limitations for prosecution, but she said, "With a lot of these victims that come forward, they just need to get some things off their chest."

'It's a tightrope'

Mary Jane Doerr, associate director for the Secretariat for Child and Youth Protection with the U.S. Conference of Catholic Bishops, acknowledges that there aren't standardized guidelines for monitoring priests restricted from ministry, who are supposed to live a life "of prayer and penance."

"There really isn't a template," said Doerr, who previously worked for the Kalamazoo Catholic Diocese. "The goal is always to create a safe environment, keeping the children safe and balancing that with the needs of the man -- who, being human, needs meaningful work.

"It's a tightrope. It's a tension."

Her office is currently surveying 195 dioceses in the U.S. on their monitoring practices of priests.

Accused priests are under no legal obligation to accept church monitoring. But, by doing so, they retain ties with the church's support structure -- financial stipends, therapy, mentorship and spiritual guidance.

Before the reforms of 2002, archdiocese officials often sent men accused of abuse for treatment. In several cases, they were returned to ministry.

"We thought we could restore them," said Michael Talbot, the Michigan Appeals Court judge who chairs the Archdiocesan Review Board that oversees abuse complaints. "We were forgetting the victim in the equation."

Talbot said many local parishioners believe that some priests have been unjustly accused.

"I don't know of any who looked them in the eye and said, 'This is true.' They've looked them in the eye and said, 'It's unjust and unfair.' And folks are operating out of a lack of information, and they have to trust that we didn't pull this out of the air."

'We have to do a ... better job'

For the Archdiocese of Detroit, Williams' case is a tragedy on many tiers -- for the victims, the church and the priest.

In the years after Williams' removal, archdiocese spokesman Ned McGrath said, the Detroit archdiocese tried to help the priest.

From 2002-07, as Williams appealed his removal through internal church trials that went all the way up to Vatican review, he drew his regular archdiocese salary and benefits. But in 2007, Vatican officials upheld Williams' removal from ministry, and the paychecks stopped.

The archdiocese gave Williams a onetime stipend and agreed to reimburse him for 50% of the cost of his medical premiums.

Williams also got a job checking in returned vehicles for a leasing firm, which lasted about a year through 2008.

He lost that when the recession hit, said Joe Maher, who started a defense fund for accused priests called Opus Bono Sacerdotii, which means "Work for the Good of the Priesthood."

Like Williams, many of the removed priests struggle to provide for themselves, said Maher, noting that in the weeks before Williams died, he was down to $500 in his bank account. Maher's group paid a delinquent health insurance premium of $2,000 so that Williams could get some necessary treatment for an erratic heartbeat.

"I think that we have to do a much better job of taking care of our own, where Father Ron died penniless, destitute and alone," said Maher. "He had literally nothing."

Williams' funeral drew several hundred people. More than 20 priests participated in the procession to the altar. Another dozen priests sat in the pews.

The speakers made oblique references to the trouble in Williams' past.

Williams, said the Rev. Tyrone Robinson, who celebrated the mass, "never doubted his faith, never condemned his church, never sought revenge."

Holley, Williams' sister, said last week that she's almost through sending personal thank-you notes to the more than 300 people who signed the funeral's guest book.

"The outpouring that we received was overwhelming, and people were stopping and telling me they came back to the faith because of Ron. He could minister a homily like no one," she said.

Since his death, she read the archdiocese documents about his removal from ministry.

"They said he had to have a life of 'penance and prayer.' But the church was his life. It just broke him. The church was his wife, his bride, and that just broke him," she said.

She said she can't believe he was capable of the allegations made against him.

"It's going to be a question that's left with the Lord and the young men," she said. "But from my heart and my perspective, I don't think he did."