Poconos Priest Sentenced in Child Porn Case

By Beth Brelje
Pocono Record
November 17, 2010

http://www.poconorecord.com/apps/pbcs.dll/article?AID=/20101117/NEWS/101119807/-1/NEWS01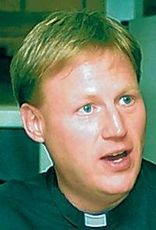 Rev. Robert Timchak



A local priest who pleaded guilty to having child porn and trying to hide the photos from state police investigators was sentenced Wednesday to 6 to 72 months in state prison.

The Rev. Robert Timchak, 44, of Milford pleaded guilty in August in Pike County Court to 17 counts of child porn possession and one count each of criminal use of a communication facility and tampering with or fabricating physical evidence.

Timchak was a priest at St. Vincent de Paul Church in Dingman Township, Pike County, and once taught at Notre Dame of East Stroudsburg. He was a student teacher at Notre Dame from September to November 2007. In December 2008, he worked as an occasional substitute teacher at Notre Dame, "occasionally celebrated Mass" and "possibly" attended school functions there, according to a statement from the Diocese of Scranton.

He also substituted in other local elementary schools, including public schools, the diocese said.

In addition to serving prison time, Timchak was ordered by Pike County President Judge Joseph Kameen to pay a fine, submit a DNA sample and register as a sex offender.

A Pennsylvania State Police investigation in April 2009 uncovered 17 images of child porn on Timchak's computer. The images were of boys found to be less than 18 years old, with an average age of 11 ?.

After being contacted by state police, Timchak tried to delete the photos from his computer, but was unsuccessful. Police said Timchak downloaded the photos from two Internet porn sites.

The original report to the Pike County District Attorney's office was made by the Scranton Diocese, after it received an anonymous tip about Timchak's activities, according to District Attorney Raymond Tonkin.