Former Area Priest Sentenced on Child Pornography Charges

By Terrie Morgan-Besecker
Times Leader
November 17, 2010

http://www.timesleader.com/news/Former-area-priest-sentenced-on-child-pornography-charges.html

A former area priest with the Diocese of Scranton who admitted possessing child pornography was sentenced today in Pike County Court to six to 72 months in state prison and a $3,400 fine.

The Rev. Robert Timchak, 44, was charged in October 2009 with possessing 18 digital images that depicted underage males engaging in sexual acts. The images were found on Timchak's computers at the St. Vincent Church in Pike County.

Timchak pleaded guilty on Aug. 26, 2010 to 17 counts of sexual abuse of children and one count each of criminal use of a communication facility and tampering with evidence.

The investigation began in December 2008 after the Diocese received an anonymous letter containing explicit photographs of males and online comments that linked to the identity "booker1441" on the Websites Xtube.com and Youtube.com. The letter writer also included paperwork from two churches that listed Timchak's email address as booker1441@aol.com.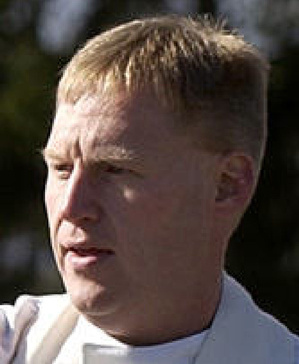 Timchak



In a sometimes emotional statement, Timchak said he believed several traumatic incidents in his life, including being sexually abused by a cousin at age 9, left him with unresolved issues regarding his sexuality and led him to commit the crime.

Timchak said he knew he had "unresolved issues," but felt as long as he was not acting out - engaging in sexual activity - that he could "manage" his sexuality.

"I was living a celibate life, but I was not living a chaste life," Timchak told Judge Joseph Kameen. "I became addicted to online pornography. It consumed four to six hours of my day."

The sentence was significantly lower than the 42-127 months in prison that prosecutors had sought. Assistant District Attorney Raymond Tonkin declined to comment on whether he was satisfied with sentence, saying only that the judge imposed a sentence he believed was appropriate.

Timchak's attorney, John Petorak, said overall he believed the sentence was fair, 'though he wished the judge would have allowed Timchak to serve the sentence in the Pike County prison, as opposed to a state prison.


"I don't believe it was an unfair sentence in any way," Petorak said. "I think the judge did a lot of thinking on this."

Timchak was taken into custody immediately after sentencing after Kameen denied a motion to extend the report date.

Timchak is on a leave of absence from the Diocese, where he remains a priest, according to .

Bill Genello, spokesman for the Diocese of Scranton. Genello said Timchak has been forbidden from practicing any ministry within the church while awaiting resolution of his case.

For the complete story read Thursday's Times Leader