Archdiocese Sued over Alleged Abuse

By Abe Levy
The Express-News
November 19, 2010

http://www.mysanantonio.com/news/religion/archdiocese_sued_over_alleged_abuse_109114424.html

Read the Plaintiff's Original Petition and Request for Disclosures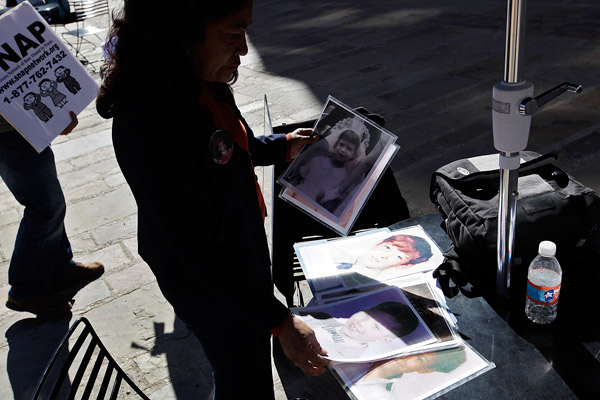 Barbara Garcia Boehland of the support group Survivors Network of those Abused by Priests lays out pictures of alleged victims at a protest in front of San Fernando Cathedral.



The Archdiocese of San Antonio is accused of covering up the repeated sexual assault of a 12-year-old boy by a priest and failing to adequately notify the Floresville parish where the alleged abuse took place nearly 35 years ago, according to a lawsuit filed Thursday in Bexar County.

The suit also claims the archdiocese sent a priest to intimidate the parish from helping abuse victims.

No longer a priest, Louis White was associate pastor of Wilson County's Sacred Heart Catholic Church in 1976-77 when he is alleged to have molested the boy up to three times a week for six months in his bedroom, a shop at the rectory and the church.

The victim is 46 now and remains anonymous in the suit, which also names White and does not specify a dollar amount for damages. White's whereabouts are unknown.

In public notices sent out in March 2009, the archdiocese said there were "believable" accusations of sexually assaulting a male teen against White and two other former priests — episodes between 1978 and 1982 at San Fernando Cathedral when they were associate pastors there.

Notices were published in the bulletins of 15 parishes where the men had served. A news release also was posted on the archdiocesan website. White's Floresville parish was not included in the initial posting but was later added with an explanation that "the parish was inadvertently omitted."

The release went on to say White abused the San Fernando teen about 1981 and was removed from the priesthood for undisclosed reasons in 1989. The notices also urged anyone with concerns to contact the archdiocese. It is believed the teen is not the same alleged victim cited in Thursday's suit.

San Antonio archdiocesan spokesman Pat Rodgers declined to comment, saying the lawsuit had not been served and at any rate archdiocese policy is not to comment on pending litigation.

The suit for the first time reveals details about an accusation against White, matching the pattern highlighted in the national scandal that erupted in 2002 and expanded oversees in subsequent years.

Several years ago the San Antonio archdiocese said there were 58 reports of abuse against 20 priests out of a total of 2,113 priests serving from 1950 to 2002. It also reported it had paid more than $5.2 million in settlements over that span.

The alleged victim in this case was a trusting altar boy and student in the parish school. White befriended the boy after intervening to stop bullies who were beating him up. One time, the church pastor, Father Joseph Hybner, walked in on the two dressing after a sexual assault in White's bedroom, the suit claims. Hybner "yelled" and "scolded" White, who was soon transferred.

Hybner today is a priest in the Victoria diocese. He did not return a phone call Thursday.

Sometime in the past year and a half, the alleged victim witnessed an archdiocesan priest stand before an audience at a Mass in the Floresville parish, "chastising anyone that would come forward about being abused" and suggesting they make penance for themselves and the abusive priest, the suit says.

"Part of the frustration for our client is this trying to silence any victims or anyone trying to come forward," said Lori Watson, a Dallas-based attorney representing the alleged victim.

Mindful that the legal time frame for filing criminal sexual assault charges or a related lawsuit has expired, Watson noted the law allows for certain exceptions. They include attempts to fraudulently conceal abuse and situations in which alleged victims are of an unsound mind to pursue legal help.

"He had a lot of problems throughout his life and never connected the problems to his abuse," Watson said. "He suppressed the abuse for years and wasn't aware the church knew" about White.

Four people with the support group Survivors Network of those Abused by Priests staged a protest in front of San Fernando Cathedral on Thursday afternoon, handing out copies of the suit.

"How many chances did the archdiocese have to remove this guy?" said Barbara Dorris, SNAP's national victims outreach director.