Defrocked Priest, Parish Ordered to Pay in Sex Abuse Case

By Sean O'sullivan
News Journal
December 1, 2010

http://www.delawareonline.com/article/20101201/NEWS01/101201025/Defrocked-priest-parish-ordered-to-pay-in-sex-abuse-case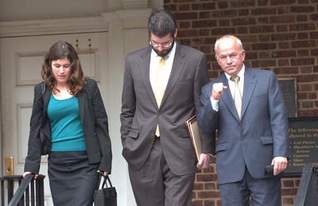 John Vie (right) leaves court in Dover today after a jury reached a decision in his favor. At left are attorneys Raeann Warner and Stephen Neuberger. (The News Journal/BOB HERBERT)



A jury awarded abuse survivor John Vai $30 million in damages for the childhood sexual abuse he suffered at the hands of defrocked priest Francis DeLuca today, and found that St. Elizabeth's Parish was grossly negligent in its failure to supervise DeLuca in the late 1960s, and should pay at least $3 million of that damage award.

The $30 million award for compensatory damages was entered against DeLuca, who admitted to molesting Vai and did not appear at the month-long trial in Dover to offer any defense. But according to DeLuca's former attorney, the ex-priest has little money, so the chances of that full award being paid are next to none.

The parish of St. Elizabeth's, however, is responsible for the $3 million in damages that the jury awarded based on the gross negligence of parish officials from approximately 1966 to 1968 when Vai testified he was molested more than 100 times by DeLuca, including a number of times in the St. Elizabeth's rectory.

Vai said afterward that some of the weight of the past 40 years, "some of the pressure, is off me."

But he said, the job is not done because there are other victims who have not had their day in court and "only part of the truth" was brought out during his case. "There is more to come," he said.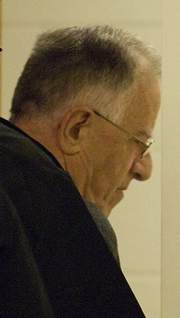 Francis DeLuca



The jury that found St. Elizabeth's negligent has been ordered to return to court Monday to hear additional testimony and to consider possible punitive damages against St. Elizabeth's and DeLuca.

Vai today also called on Monsignor Thomas Cini to be removed from his position as the No. 2 authority in the Roman Catholic Diocese of Wilmington and be sent to a monastery "to repent for his sins against dozens of survivors of DeLuca who he did not protect" and to further pray for those survivors' recovery from the wounds of childhood rape.

Vai charged on the stand that Cini -- as a young parish priest at St. Elizabeth's --saw Vai headed up to DeLuca's room in the late 1960s and failed to act. Cini, in his testimony, denied seeing Vai or any other child in the rectory or in the area of DeLuca's bedroom.

Vai said the jury verdict shows that Cini was not believed by the jury.

Diocese spokesman Robert Krebs said the diocese stands by Cini and his testimony.

St. Elizabeth's attorney Colleen Shields declined to comment today on the result, citing that the trial is not yet over because the jury still has to consider punitive damages.

However, Krebs released a statement on behalf of Bishop W. Francis Malooly, who apologized again on behalf of the diocese to Vai and all other victims of childhood sexual abuse at the hands of priests. However, Malooly added he was "disappointed that the jury found the people of St. Elizabeth's liable for the acts of Francis DeLuca."

Contact Sean O'Sullivan at 324-2777 or sosullivan@delawareonline.com