Burke Woman Leads Awareness Campaign on Clergy Sexual Abuse

By Derek Kravitz
Washington Post
December 5, 2010

http://www.washingtonpost.com/wp-dyn/content/article/2010/12/05/AR2010120503224.html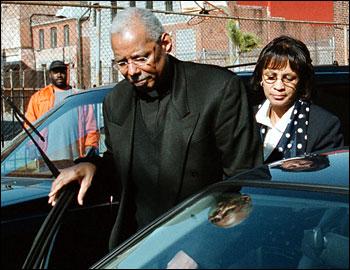 What happened to the clergy accused of sexually abusing children? In many cases they simply disappeared, leaving traumatized victims and parishes in their wake.



As a 10-year-old girl, red-haired Becky Ianni said she thought Monsignor William T. Reinecke, a newly ordained pastor at the Ianni family's Alexandria church, was gentle and warm. Families vacationed with him, kids loved him and female parishioners thought he was handsome. In the late 1960s, Reinecke gave the Iannis their first color television.

Then, she said, the molestation started in the basement of Ianni's home and in the vestry of the church. She wouldn't speak about the abuse for decades.

"I didn't tell anyone what happened," she said. "I was basically told that I'd go to hell if I did."

Now 53 and living in Burke, Ianni has become a spokeswoman for those who say they've been sexually abused by clergy in the Washington area.

On Sunday, she stood outside the Cathedral of Saint Matthew the Apostle, near M Street and Connecticut Avenue NW, handing out fliers that urge people to talk to their children about sexual abuse.

A Washington Post analysis of priests accused of abuse in the Washington area identified 31 such priests, seven of whom are dead. Reinecke was one of those identified.

After beginning his career at St. Mary, Reinecke served at parishes in Annandale, Arlington County and Falls Church. For 13 years, he was chief executive officer, second to the bishop in charge of the Arlington diocese's 56 parishes and about quarter of a million parishioners.

In 1992, a former altar boy confronted Reinecke after a Mass. The man, a mental health counselor, gave Reinecke his business card and urged him to resign and get help.

Two days later, the priest, then 53, checked into a retreat house in Berryville, Va., west of Loudoun County. Long suffering from depression, Reinecke took a shotgun that he had bought in Warrenton and walked into a field, where he shot himself.

After his death, the mental health counselor and another male parishioner came forward with abuse allegations involving Reinecke, saying the priest had fondled and sexually abused them during overnight trips to Williamsburg in the late 1960s.

Ianni came forward in 2006 after having flashbacks when she came across a photo of Reinecke. "I told my husband, and then I told a therapist, and it became easier and easier to talk about," she said.

The Arlington Diocesan Review Board investigated Ianni's allegation and deemed it "credible" under the church's sexual misconduct and child abuse policy. She received a cash settlement and an official apology in 2008. Ianni said the apology came after 18 months of bureaucratic wrangling among church officials.

"I became so disillusioned," she said. "I realized I couldn't be a part of a church that wouldn't deal appropriately with these victims."

Ianni devotes much of her time to a support group, the Survivors Network of those Abused by Priests, or SNAP. The Virginia chapter of the 9,000-member international organization counts several abuse victims among its volunteers.

Ianni said she no longer considers herself a practicing Catholic.